Ahok Inaugurated as Jakarta's 17th Governor by Joko Widodo
Basuki Tjahaja Purnama (better known as Ahok) has been inaugurated as the 17th Governor of Jakarta by Indonesian President Joko Widodo on Wednesday (19/11) The position of Jakarta Governor was previously empty as former Governor Widodo stepped down from this position to focus on a (successful) presidential campaign. Although by law the Deputy Governor (Ahok) automatically becomes the new Governor, this has met fierce resistance from certain sides as Ahok is an ethnic Chinese Christian.
This news article is the updated version of an article that was first published on 18 November 2014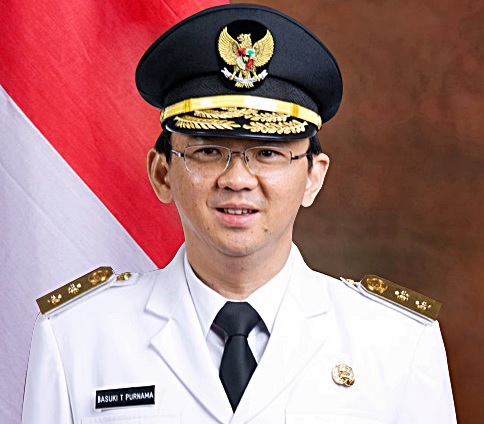 Certain stricter Islamic groups, such as the violent Islamic Defenders Front (Front Pembela Islam, FPI), had tried to block the inauguration of Ahok as Jakarta Governor as they reject the notion that a Christian heads a Muslim-majority city. The inauguration took place at the State Palace in Jakarta on Wednesday afternoon. The Indonesian policy force had mobilized around 12,000 personnel to provide security.
Moreover, Ahok has created political enemies by leaving Prabowo Subianto's Great Indonesia Movement Party (Partai Gerakan Indonesia Raya, Gerindra) after this party supported the scrapping of local elections. Controversial former army General Prabowo Subianto, the defeated presidential candidate in the July presidential election, had formed a political party coalition (labelled the Red-White Coalition) prior to the election, constituting a majority in parliament, in an attempt to frustrate Widodo's campaign. Being on bad terms with Subianto's Gerindra party implies that Ahok can also not count on support from other political parties within the Red and White Coalition.
On Friday (14/11), the Jakarta City Council held a special plenary session endorsing the inauguration of Ahok. This endorsement is submitted as a recommendation to the Indonesian president. However, this session was boycotted by the members of the Red and White Coalition meaning that only 44 of the Council's 106 members were present at the plenary session. As such, the coalition argued that the endorsement is invalid due to the shortage of minimum required attendees (which is set at 54 members) and thus demanded another session. However, this quorum does not apply in this scenario as it was a special plenary session held under the auspices of a Home Affairs Ministry directive issued in October 2014. The Red and White Coalition may now consult with the Constitutional Court and Supreme Court to try to undermine the Council's endorsement.
None of the city councilors that are members of the Red-White Coalition attended the inauguration ceremony at the State Palace.
Lawmakers of the Red-White Coalition announced that they now want to summon the Minister of Home Affairs (Tjahjo Kumolo) as well as the State Secretary (Pratikno) to complain that the inuaguration of Ahok is unconstitutional.