Indonesia's Main Stock Index up 1.70%, Europe and Wall Street Mixed
After most European and American stock indices had been positive for a couple of days in a row, Indonesia's main stock index (IHSG) finally found its way up again. On Wednesday (10/07), the index rose 1.70 percent to 4,478.64 points. Moreover, on the previous day, Asian stock indices had shown a good performance and this convinced investors to buy Indonesian assets (which have fallen considerably recently) the next day. Despite foreigners still being net sellers of Indonesian stocks, a number of big cap stocks rose sharply.
Rising Asian stock indices on Wednesday (10/07) were supported by the rise in commodity and finance stocks despite China's trade balance being lower. China's exports in June declined for the first time since January 2012. Imports too posted a surprising fall. These figures indicate slowing foreign demand for Chinese products as well as weaker domestic demand in the world's second largest economy. Market participants are now speculating that China will provide stimulus to support its economy.
The IDR rupiah continued to weaken against the US dollar as there are still no positive sentiments that can alter this situation.
| Source: Bank Indonesia

European Stock Indices


Most European indices were slightly lower on Wednesday (10/07) as investors were waiting for the release of the minutes of the Federal Reserve's last policy meeting. These minutes may provide some more information about the Federal Reserve's intention to end its quantitative easing program. After that meeting (in June), Ben Bernanke informed that the Fed is thinking about a gradual stop to the monthly bond-buying program this year until a full stop in 2014. This subsequently brought many stock markets around the world (particularly those in emerging markets) in a downward spiral.
Other news that brought negative market sentiments in Europe on Wednesday's trading day was the above-mentioned trade balance in China.

Wall Street


The Fed minutes, which were released after Asian and European stock markets had closed on Wednesday, showed a divided Fed board. About half of the board members support a finish to the quantitative easing program this year, while others want the program to stop in 2014. As such, uncertainty about the QE program continues. Wall Street was still open to give a direct response to the release of the minutes. Similarly to the Fed board, stock indices were mixed. The Dow Jones index fell 0.06 percent, S&P 500 moved sideways, and Nasdaq rose 0.47 percent.
An important statement in the minutes was: "many members indicated that further improvement in the outlook for the labor market would be required before it would be appropriate to slow the pace of asset purchases." Moreover, the majority of the Fed's board support a low interest rate policy up to the end of 2015. Bernanke recently said that - considering the current US unemployment rate and cutbacks in government spending - a "highly accommodative monetary policy for the foreseeable future is what is needed for the US economy." Previously, Bernanke stated that an US unemployment rate of about 6.5 percent and inflation below 2 percent will provide a conducive context to reduce or stop the QE program. US inflation has been kept well below that borderline (1.4 percent year on year in May 2013) but the US unemployment rate was unchanged at 7.6 percent in June 2013 (despite 195,000 new jobs being added to the USA economy in the same month).

Unemployment Rate of the United States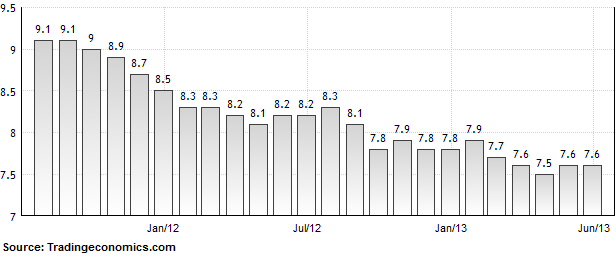 Additional reporting about Europe and Wall Street by R.M.A. van der Schaar


‹ Kembali ke Berita Bursa Efek