Analysis & Forecast of Indonesia's Palm Oil Export and CPO Prices
Exports of Indonesian crude palm oil (CPO) and its derivatives increased 45.8 percent month-on-month (m/m) to 2.47 million metric tons in October 2014 primarily supported by the zero export tariff that was implemented by the Indonesian government per 1 October. Indonesia has a mechanism that when the average CPO price (which is calculated using international and local CPO prices) drop below USD $750 per metric ton, the export tax is scrapped. In early September, Malaysia had already implemented a zero CPO export tax.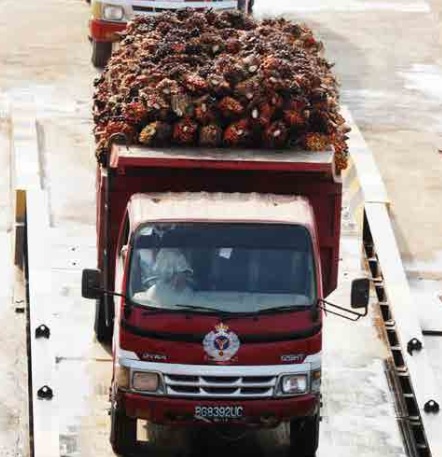 Palm oil futures in Kuala Lumpur had touched 1,914 ringgit (approximately USD $572) per metric ton in early September 2014, the lowest since March 2009, and thus Malaysia (later followed by Indonesia) scrapped export taxes for CPO in an effort to boost sluggish CPO prices. Malaysian authorities have already announced that the zero export tariff will be maintained up to the year-end. Indonesian authorities, however, have not confirmed yet whether the 0 percent export tax will be extended into December (as this decision depends on the aforementioned price-mechanism) but chances are very slim that the government's benchmark CPO price will exceed the USD $750 per metric ton level in December. Considering that there are still ample reserves of palm oil in Indonesia and Malaysia (on the back of strong production in 2013 and 2014) as well as other vegetable oils (soy, rapeseed and sunseed), we expect that the benchmark CPO price may touch USD $750 per ton again after March 2015. Indonesia's Trade Ministry set its November 2014 benchmark CPO price at USD $665 per metric ton.
Although the performance of Indonesia's palm oil export in October is good on a month-on-month basis, it can be labelled sluggish when compared to the export performance last year. In the first ten months of 2014, Indonesia's overall CPO export stood at 17.5 million metric tons, a mere two percentage point improvement from the same period in 2013 (17.2 million metric tons).
Indonesia's October CPO export performance was not only supported by the 0 percent export tariff but also due to a sharp rebound in CPO demand from China, Indonesia's second-largest CPO customer (after India). Exports to China improved as Indonesian palm oil producers now meet China's recently-introduced new regulations regarding pesticide residue. As a result, Indonesian CPO exports increased 390 percent m/m to 275.9 thousand tons in October 2014. Meanwhile, CPO demand from India also grew sharply in October. According to data from the Indonesian Palm Oil Association (Gapki), Indonesian CPO exports to India grew 140 percent m/m to 733.6 thousand tons in October. The main factor that explains this growth is the looming Indian import tariff hike for edible oils. The government of India plans to raise this import tax from 2.5 percent to 10 percent soon. Therefore - ahead of its implementation - Indian importers boost CPO imports to take advantage of the current lower import duties.
Indonesian CPO export to the USA declined sharply in October (95 percent m/m to 3.2 thousand tons) due to the abundant soybean supply in the world's largest economy. Soybean oil and palm oil dominate the global market, accounting for about 60 percent of the world's total edible oils production, and, as both commodities can substitute each other, food processors can alternate between the two commodities depending on favourable prices.

Indonesian Palm Oil Export in 2014:


Month
Volume
(million tons)
January
1.57
February
1.58
March
1.79
April
1.38
May
1.70
June
1.79
July
1.84
August
1.72
September
1.69
October
2.47
Total
17.53
Source: Indonesian Palm Oil Association (Gapki)


There are a number of signs that point to improving global CPO prices in the coming months. Firstly, drought in several important CPO producing regions of Indonesia (Sumatra and Kalimantan) managed to curb recent CPO production rates, thus resulting in the country's declining CPO reserves. Secondly, drought in Brazil (an important soybean producer) in October causes expectation about declining soybean output (which should boost soybean prices and thus make CPO a more attractive alternative). Thirdly, Indonesian CPO exports are expected to decline as domestic biofuel demand increases. In August 2013, the Indonesian government introduced an ambitious program that stipulates a higher mandatory content of fatty acid methyl ester (made from palm oil) in biodiesel products (the mandatory content was raised from 7.5 percent to 10 percent). This program was launched in a bid to curb costly oil imports (the main reason for the country's wide current account deficit). As a result of this program, domestic palm-based biodiesel demand is expected to rise to 1.6 million tons in 2014, to 4.2 million tons in 2015, and to 8.85 million tons in 2016, thus curbing the global CPO supply. Lastly, palm oil enters the biological down-cycle in 2015, implying that production growth may not be as strong as it has been in 2013 and 2014.
The world's palm oil output is dominated by Indonesia and Malaysia. Together, both countries account for between 85 to 90 percent of total global palm oil production. Indonesia is currently the world's largest producer and exporter of palm oil.

Indonesian Palm Oil Production and Export:


2007
2008
2009
2010
2011
2012
2013
2014¹
Production
(million metric tons)
16.8

19.2

19.4

21.8
23.5
26.5
27.0
30.5
Export
(million metric tons)
n.a

14.2

15.5

15.6
16.5
18.1
21.2
20.0
Export
(in USD billion)
n.a
15.6
10.0
16.4
20.2
21.6
19.0
18.0
¹ indicates forecast
Sources: Food and Agriculture Organization of the United Nations, Indonesian Palm Oil Producers Association (Gapki) and Indonesian Ministry of Agriculture