Indonesia Infrastructure Update: Trans Java Railroad Nearing Completion
According to the Deputy Minister of Transportation Bambang Susantono, the construction of the Trans-Java railroad is well on its way and might be fully operational from the first quarter of 2014. The Trans-Java railroad is a 727-kilometer double-track railroad that connects Jakarta and Surabaya, Indonesia's two largest cities. Most of the railroad, which costs the government IDR 9.8 trillion (USD $852.2 million), will be ready for use before New Year but there are still a few plots of land that the government needs to acquire.
Land acquisition has been a notorious problem in Indonesia as prices of land have been skyrocketing in recent years, frequently delaying - or withdrawing - projects. Susantono is certain, however, that the acquisition of the few plots of land, located between Semarang (Central Java) and Bojonegoro (East Java) as well as between Bojonegoro and Surabaya, will be settled soon.
The railway between Indonesia's capital city of Jakarta and Surabaya (the capital of the province of East Java), both located on the island of Java, is needed to tackle Indonesia's grave infrastructure problem. The lack of proper infrastructure in Southeast Asia's largest economy has been hampering economic development as it increases the country's logistics costs sharply. Logistics costs in Indonesia account for about 24 percent of Indonesia's gross domestic product (GDP), significantly higher compared to its regional peers, and limits trade and competitiveness. It is often said that it is more expensive to import an orange from Medan (North Sumatra) to Jakarta than it is to import one from China.
Capacity of the new railroad is estimated at 1 million TEUs (twenty-foot equivalent units) of container transport per year. The current railroad between the two cities can only handle 200,000 TEUs per year and takes much more time to reach the other city. When operational, the new railroad, part of the government's Masterplan for Acceleration and Expansion of Indonesia's Economic Development (MP3EI), will only need 8.5 hours to go from one end to the other, significantly faster than the current 13 hours.
If everything goes according to plan then the first train trial run can be conducted in January 2014.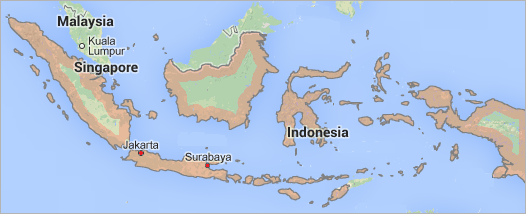 The government is also still committed to the construction of the Jakarta-Surabaya Toll Road project. For more information about this project click here.