Palm Oil Industry in Indonesia: Update on CPO Production & Export
Exports of Indonesian crude palm oil (CPO) and its derivatives may increase to 21.6 million tons (collecting about USD $16.0 - 17.3 billion in foreign exchange) in 2015. Meanwhile, Indonesian CPO production is estimated to reach 32.5 million tons next year while the CPO price is estimated to range between USD $740 - 800 per ton. However, provided that the Indonesian government will extend its current zero export tariff scheme for CPO exports, then the country's CPO exports are expected to accelerate.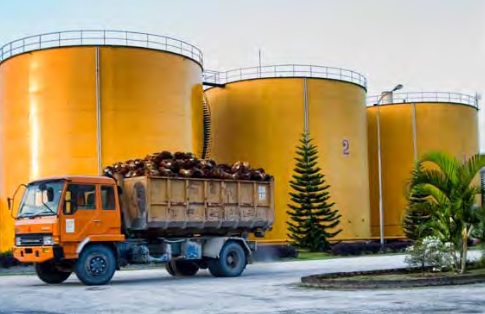 Indonesia followed Malaysia's example by scrapping the export tax for CPO in an attempt to boost demand (and prices) after the government's benchmark CPO price had fallen below the USD $750 per ton mark in October 2014 (Indonesia applies a mechanism that when international and local CPO prices drop below USD $750 per metric ton the CPO export tariff is cut to 0 percent). Malaysia and Indonesia, the world's two leading producers and exporters of palm oil, decided to scrap export tariffs after palm oil futures in Kuala Lumpur had touched 4.5-year lows in September 2014.
According to the Indonesian Palm Oil Association (Gapki), Indonesia's CPO production in 2014 may reach 31 million tons, of which 21.3 million tons are expected to be exported abroad, with the country's top CPO export markets in the USA, India, China, Eurozone, Bangladesh and Pakistan. In the first ten months of 2014, Indonesia has already exported a total of 17.53 million tons of CPO with an average CPO price of USD $864.24 per ton. If the CPO price will not experience any sudden changes then Indonesia may generate a total of USD $18.4 billion in foreign exchange from CPO exports this year.

Indonesian Palm Oil Export in 2014:


Month
Volume
(million tons)
January
1.57
February
1.58
March
1.79
April
1.38
May
1.70
June
1.79
July
1.84
August
1.72
September
1.69
October
2.47
Total
17.53
Source: Indonesian Palm Oil Association (Gapki)


Fadhil Hasan, Executive Director at Gapki, said that the impact of the zero CPO export tariff that was implemented starting from 1 October 2014 was immediately felt as CPO exports increased 45.8 percent month-on-month (m/m) to 2.47 million metric tons in October. The positive impact of the zero export tariff will continue into November and December. In fact, local palm oil companies would like to see this zero percent export scheme extended throughout 2015 in order to boost CPO exports as this commodity still has to cope with weak demand on the international market. Furthermore, stakeholders in Indonesia's palm oil industry are pessimistic that the government's biofuel program will run as smoothly as planned next year implying that domestic CPO consumption will be less than expected. In August 2013, the Indonesian government introduced an ambitious program that stipulates a higher mandatory content of fatty acid methyl ester (made from palm oil) in biodiesel products (the mandatory content was raised from 7.5 percent to 10 percent). This program was launched in a bid to curb costly oil. There are plans to raise the mandatory content further to 20 percent.
Indonesian CPO production in 2015 is expected to grow slightly from this year's estimated 31 million tons. Apart from the impact of dry weather (which hit crops in 2014 impacting on 2015 harvests), CPO production is also curtailed by the government's two-year primary forest moratorium, a temporary stop to the granting of new permits to clear rain forests and peat lands in the country.

Indonesian Palm Oil Production and Export:
2008
2009
2010
2011
2012
2013
2014¹
2015¹
Production
(million metric tons)

19.2

19.4

21.8
23.5
26.5
27.0
31.0
32.5
Export
(million metric tons)

15.1

17.1

17.1
17.6
18.2
21.2
20.0
21.6
Export
(in USD billion)
15.6
10.0
16.4
20.2
21.6
19.0
18.4
¹ indicates forecast
Sources: Food and Agriculture Organization of the United Nations, Indonesian Palm Oil Producers Association (Gapki) and Indonesian Ministry of Agriculture