Dining in Jakarta: Everyone Has to Try the Roti Canai in Penang Bistro
The next restaurant we visited for our column series about dining in Jakarta was the Penang Bistro. This restaurant, which serves a selection of Malaysian, Singaporean and Indonesian dishes, has seven outlets in Jakarta. The outlet we visited is located in the luxurious Grand Indonesia Shopping Mall, right in the heart of Jakarta and next to the iconic roundabout (known as Bundaran HI). Grand Indonesia is connected to the Kempinski Hotel (previously Hotel Indonesia), one of the most luxurious hotels of Indonesia and a landmark building.
Grand Indonesia consists of two wings; an east and west wing, separated by a road but connected through a pedestrian skybridge (indoor) on the 3rd floor. It is also on this floor (on 3A to be precise) where you can find the Penang Bistro restaurant, a five-minute walk from the main entrance of the east wing.
Penang is a state in Malaysia with a large Chinese and Malay population (as well as an Indian minority) and therefore the menu of Penang Bistro contains many dishes from Malaysia, influenced by Chinese, Malay, and Indian traditions. The restaurant also offers a wide selection of vegetarian dishes.
The menu we selected consisted of: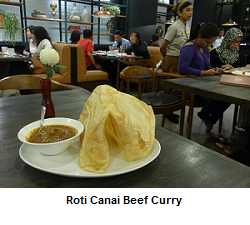 - Roti canai beef curry (appetizer)
- Singapore crispy sotong
- Fried tofu Penang kampoeng style
- Kangkung balachan
- Sweet and sour strawberry chicken
- Baked squid in tom yam sauce
The appetizer - roti canai beef curry - is a well-known Indian style crispy pancake with beef curry dipping sauce. This dish is highly recommended as the taste of both bread and sauce is delicious (the sauce is a little bit similar to rendang, a famous Indonesian dish). After having finished the roti canai it is was very tempting to order another portion of this dish and to forget about the main menu.
The danger of having had such a great appetizer is that the main course may disappoint a bit. This was indeed the case as non of the other items good offer the same rich tastiness as the roti canai beef curry. In fact, for Indonesian standards the main course dishes were not very spicy (for western standards it may still be labeled spicy though), thus needing to request some extra (sliced) garlic, chili and kecap sauce as we have become used to eating spicy food.
The Singapore crispy sotong (which is deep fried baby squid in Singapore sauce) and the baked squid in tom yam sauce were good dishes, in combination with white rice, but lacked the delicate taste that some other restaurants offer.
The fried tofu Penang kampoeng style was, however, very good. This dish consists of deep fried tofu served with sauteed minced chicken (the chicken was a bit too salty though) and spring onions in kampoeng style homemade sauce (kampoeng, meaning village or community, generally refers to some traditional style).
As for vegetables, we tried the kangkung balachan. This is spinach with Malaysian shrimp paste sauce. There is nothing negative or positive to say about this dish. It was good but there are many places where they serve tastier kangkung.
Lastly, comes the sweet and sour strawberry chicken (deep fried boneless chicken meat with special sweet and sour strawberry sauce). This was a very interesting dish as the combination of strawberry and chicken meat is not common to everyone. Just like pineapple or mango, the strawberry matches quite good with the chicken meat. However, without adding some extra garlic, chili and kecap sauce, the dish lacks a certain level of 'spicyness'.
The atmosphere inside the restaurant was very nice: stylishly decorated, good lighting, spacious and crystal clean.

Dinner at Penang Bistro:
| | |
| --- | --- |
| Topic | Mark |
| Food | 7.0¹ |
| Ambiance | 8.0 |
| Service | 8.5 |
| Location | 7.5 |
| Total | 7.8 |
¹ the roti canai definately scored a 9

Indicative price for a complete dinner at Penang Bistro (one adult, including one drink):

• IDR 200,000 (USD $17)