Indonesia's HSBC Purchasing Manager Index Hits Seven-Month Low in March
Indonesia's HSBC purchasing manager index (PMI) hit a seven-month low at 50.1 in March 2014, down from 50.5 in the previous month. According to Indonesia's Finance Minister Chatib Basri, there is no need to revise government policy to combat the slowdown in the country's manufacturing sector as the government has deliberately slowed down the economy in order to curtail the wide current account deficit. The government of Indonesia aims to reduce the current account deficit to 2.5 percent of the country's GDP by the end of 2014.
In 2013, Indonesia's current account balance stood at a deficit of USD $28.5 billion, equivalent to 3.3 percent of GDP. This deficit, which hit a record high at USD $9.9 billion or 4.4 percent of GDP in the second quarter of 2013, was the primary reason that international investors pulled billions of US dollars from Indonesia's capital markets between May and December 2013 amid a period of high uncertainty as the Federal Reserve started to speculate about an end to its massive monthly bond-buying program (quantitative easing). Starting from the third quarter in 2013, however, the current account deficit has shown an improving trend.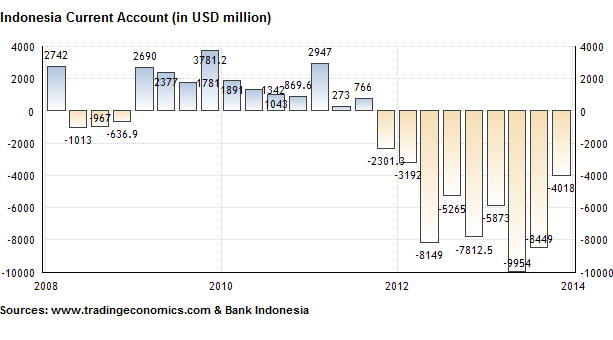 The HSBC survey indicated that Indonesia's slowing manufacturing sector was caused by unfavorable weather conditions and raw material shortages. Employment in Indonesia's manufacturing sector decreased for the third consecutive month.
Su Sian Liam, ASEAN economist at HSBC, commented: "the ongoing decline in work backlogs suggests that manufacturing conditions could remain flat in the coming months. Although the output and input price indices remain elevated, we are comforted that the pace of gains continues to slow."
New orders surged in March, extending the growth streak to six months. Meanwhile, new export orders from the USA, Asia and Europe rose in March but at a slower pace compared to the previous month.
Indonesia's Ministry of Industry expects the country's non-oil manufacturing industry to expand by 6.8 percent, up from a 6.1 percent growth rate last year. However, according to analysts this target is too ambitious.
Most major economies in Asia and Europe ended the first quarter of 2014 on a weaker note, with surveys indicating that manufacturing is slowing, thus fueling expectations that governments are forced to act in the months ahead to boost slowing growth.