Infrastructure & Property Development: Indonesian Cement Firms Benefit
Cement sales in Indonesia are expected to rise as the new Indonesian government aims to ramp up infrastructure development while - in the long term - Indonesian banks will lower interest rates. Lower interest rates give rise to enhanced property development in Southeast Asia's largest economy. The country's three leading cement producers are expected to benefit significantly from these developments. These companies are Semen Indonesia, Indocement Tunggal Prakarsa, and Holcim Indonesia.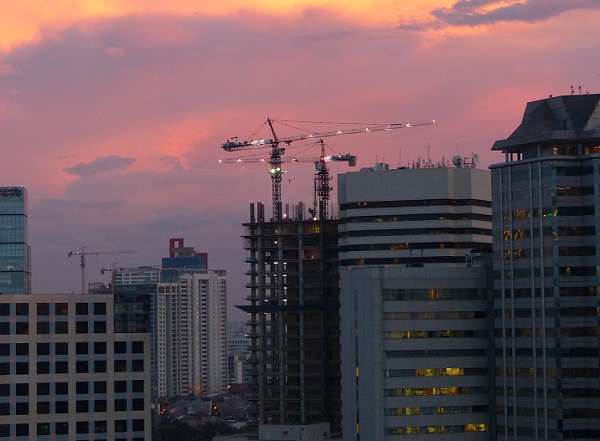 Ella Nusantoro, analyst at Credit Suisse Securities Indonesia, stated in a recent report that the three aforementioned companies have a positive middle to long-term outlook as president-elect Joko Widodo, who will assume office on 20 October 2014, intends to boost infrastructure development. Currently, Indonesia has to cope with a lack of quantity and quality of infrastructure, thus leading to weak competitiveness of Indonesian businesses as logistics costs are high.
Although on the short-term the central bank will not lower its benchmark interest rate (BI rate) as the institution still needs to combat the country's wide current account deficit (which puts pressure on the value of the rupiah exchange rate) and avert the impact of looming US interest rate hikes in mid-2015 as well as offset inflationary pressures caused by (looming) higher prices of subsidized fuels before the year-end, on the longer-term Indonesia is expected to see a lower interest rate environment. Usually, property development gets a boost when Bank Indonesia lowers its interest rate. Currently the BI rate is set at 7.50 percent.
Particularly Semen Indonesia and Indocement Tunggal Prakarsa will benefit from enhanced infrastructure and property development as both companies have the largest cement production volumes as well as the best financial balance sheets among Indonesian cement producers. Due to large cash reserves they can react quickly by ramping up production when domestic cement demand rises sharply.
Several other factors will also contribute to good financial performance of Indonesian cement producers. The gradually rising average selling price of cement, increased efficiency at cement plants, and lower production costs are expected to improve companies' profit margins. One risk, however, is that increased competition between domestic cement players will cause a lower selling price of cement.


Company
Recommendation

Price Target

PE (x)
2014¹
PE (x)
2015¹
PB (x)
2014¹
PB (x)
2015¹
Semen Indonesia
Outperform
IDR 19,100
14,9
13,0
3,6
3,1
Indocement T. P.
Neutral
IDR 25,700
15,0
13,3
3,2
2,9
Holcim Indonesia
Neutral
IDR 2,825
18,0
15,8
2,1
1,9
¹ forecast
Source: Credit Suisse


Widodo Santoso, Chairman of the Indonesian Cement Association (ASI), said that total cement sales in Indonesia will grow about five percent (y/y) to 61 million tons in 2014. As economic growth in Indonesia has been slowing in recent years (due to international economic turmoil and the domestic higher interest rate environment), so have cement sales. President-elect Joko Widodo (popularly known as Jokowi) pledged to guide Indonesia back to a +7 percentage point GDP growth during his leadership (2014-2019). One of the first topics on his reform agenda is to reduce generous government spending on fuel subsidies and relocate these funds to infrastructure development (as well as social development). If Jokowi succeeds to implement his reform program then Indonesian cement firms find themselves in a good position.

Indonesian Cement Sales 2009-2014:


Year
Cement Sales

YoY Cement
Sales Growth

YoY GDP
Growth
2014
61 million¹
+5.1%¹
+5.2%¹
2013
58 million
+5.6%
+5.8%
2012
55 million
+14.6%
+6.2%
2011
48 million
+20.0%
+6.5%
2010
40 million
+4.2%
+6.1%
2009
38.4 million
+1.1%
+4.6%
¹ forecast
Source: Indonesia Cement Association (ASI)