Jokowi & Brodjonegoro on Indonesia's Subsidized Fuel Price Hike
After speculation started to rise that Indonesia would perhaps not raise prices of subsidized fuels (gasoline and diesel) in November as recent declining global oil prices have managed to somewhat relieve the government's budget deficit, Indonesian Finance Minister Bambang Brodjonegoro said over the weekend that the Indonesian government is still eager to raise these prices within a couple of weeks. However, he added that the price hike will be less than IDR 3,000 (USD $0.25) per liter.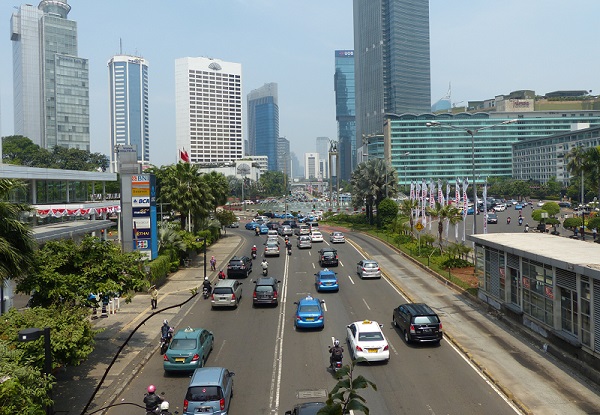 During last weekend's Group of 20 Leaders' Summit in Brisbane (Australia), Indonesian President Joko Widodo confirmed that he is ready to put his popularity at risk by raising subsidized fuel prices in Southeast Asia's largest economy. However, Widodo refrained from mentioning a specific timing for the looming price hike. After his arrival back in Indonesia (Widodo arrived back in Jakarta on Sunday 16 November) he is expected to calculate and announce the new fuel prices.
During his successful presidential campaign and first weeks as president, Widodo (locally known as Jokowi) repeatedly emphasized the need for a reduction in public spending on fuel subsidies in order to make the country's fiscal balance sheets more healthy (curbing a wide current account deficit which is primarily caused by expensive oil imports) and enhance public spending on more structural, long-term matters such as infrastructure development as well as agriculture, fishery, education and healthcare. Over the past five years (2009-2013), the Indonesian government spent over IDR 714 trillion (USD $59 billion) on fuel subsidies, way above public spending on infrastructure and healthcare.

Indonesian Energy Subsidies:


| | | |
| --- | --- | --- |
| Year | Fuel Subsidies | Electricity Subsidies |
| 2015 | 276.1 | 68.7 |
| 2014 | 246.5 | 103.8 |
| 2013 | 210.0 | 99.9 |
| 2012 | 211.9 | 94.6 |
| 2011 | 165.2 | 90.4 |
| 2010 | 82.4 | 57.6 |
| 2009 | 45.0 | 49.5 |
| 2008 | 139.1 | 83.9 |
| 2007 | 83.8 | 33.1 |
| 2006 | 64.2 | 30.4 |
| 2005 | 95.6 | 8.9 |
| 2004 | 69.0 | 2.3 |
in trillion rupiah


Raising subsidized fuel prices is a (political) risky and sensitive matter in Indonesia as it will trigger demonstrations and political opponents. Moreover, the price hike will result in accelerated inflation across the world's largest archipelago, thus curbing people's purchasing power. In case of a sharp price hike (between IDR 1,000 and IDR 3,000 per liter) inflation is expected to be considerably high for a period of three months. If not accompanied by government social assistance programs, such a fuel price hike can in fact push millions of Indonesians (who live just above the poverty line) into poverty. During Susilo Bambang Yudhoyono's presidency, the government would provide cash transfers (Bantuan Langsung Tunai) to the poorest segments of Indonesian society in times of fuel price hikes. Jokowi, however, dislikes these cash transfers as it encourages frivolous spending (for example people use it to buy cell phones or tobacco) and graft (conducted by corrupt officials). To support the poorer households, Jokowi launched the Indonesian Health Card (Kartu Indonesia Sehat, or KIS), the Indonesian Smart Card (Kartu Indonesia Pintar, or KIP) and the Indonesian Prosperous Card (Kartu Keluarga Sejahtera, or KKS) in early November. Through these programs, poor households will have better access to healthcare and education. Moreover, it helps to safeguard their purchasing power.
Indonesian Finance Minister Bambang Brodjonegoro stated that the looming fuel price hike will save the Indonesian government over USD $8 billion in the 2015 budget. These funds then can be pumped into development of the country's basic infrastructure (including irrigation), fertilizers and agriculture productivity.
For investors it is interesting to learn whether Jokowi will indeed have the courage to implement structural reforms (such as the subsidized fuel price hike) as he has been promising during his campaign and after his inauguration as Indonesia's seventh president.

Key Findings:


• Although exact details (timing and amount) have not been given, the Indonesian government is still expected to raise subsidized fuel prices before the year-end
• President Widodo is eager to curb public spending on fuel subsidies in an effort to limit the country's current account deficit and make fiscal room for public investments for the purpose of economic and social development
• Higher subsidized fuel prices imply political and social risks as it jeopardizes the popularity of the government (triggers demonstrations) and causes a sharp increase in inflation (reducing people's purchasing power and can in fact push millions of people who live just above the poverty line into poverty)