Soechi Lines First of 6 IPOs on Indonesia Stock Exchange in December
A total of six Indonesian companies are expected to conduct an initial public offering (IPO) on the Indonesia Stock Exchange (IDX) in December 2014. Today (Wednesday 03/12), shipping company Soechi Lines made its trading debut, raising around IDR 582.5 billion (USD $48 million) by offering 1 billion new shares, or 15 percent of the company's enlarged capital, to the public. The company's shares surged as much as 27 percent after the opening. It was the 20th company to list on the IDX in 2014.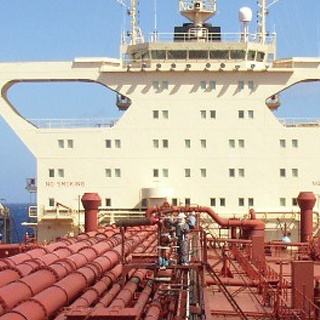 Go Darmadi, President Director of Soechi Lines, said that 55 percent of the proceeds will be used to buy new ships, 30 percent to pay off debts of its subsidiaries, and the remaining 15 percent for working capital of its subsidiaries.
Soechi Lines, established in 1977, is an Indonesia-based company engaged in marine transportation as well as hotel management in Medan (North Sumatra), and owns a shipyard in Karimun Island (located close to Singapore and Batam). Soechi Lines currently owns a fleet of 33 ships (including oil tankers, chemical tankers, and gas carriers).

The successful trading debut of Soechi Lines signals that there is plenty of interest in Indonesian stocks after political uncertainties (brought about by the fragmented outcomes of Indonesia's legislative and presidential elections in 2014) have eased and the new Joko Widodo-led government has showed its commitment to implement structural reforms in a bid to boost economic and social development in Southeast Asia's largest economy. One example of this commitment was the recent subsidized fuel price hike. On 18 November 2014 subsidized fuel prices (low-octane gasoline and diesel) were raised (a move which implies political and social risks in Indonesia) by over 30 percent in order to relieve pressures on the government budget deficit and the current account deficit, as well as to reallocate government spending from fuel consumption to structural sectors such as infrastructure, agriculture, education and healthcare. Widodo targets to push economic growth back to +7 percent year-on-year by 2019 through structural reforms. If realized, this would fuel appetite for Indonesian stocks as well as for more IPOs to be conducted on the IDX. In the third quarter of 2014, Indonesia's GDP growth fell to a five-year low of 5.01 percent (y/y).
However, higher subsidized fuel prices also resulted in Bank Indonesia's decision to raise its key interest rate (BI rate) by 25 basis points to 7.75 percent in November 2014, a relatively high interest rate, implying that, from a sectorial point of view, stocks of banks and other financial institutions will have difficulty to gain. Moreover, amid continued weak external demand, companies focused on commodities also still have a bleak outlook. Lastly, Indonesia may be hit by severe capital outflows after the US Federal Reserve announces to raise its key interest rate. US interest rates are expected to raise in the second or third quarter of 2015.
President Widodo has repeatedly emphasized that he intends to focus on development of the maritime sector. This makes stocks of Soechi Lines attractive as the company can benefit from the country's new development targets in the maritime sector. Furthermore, with a price to earnings ratio of between 7.9 and 10.5 times, Soechi Lines' shares are attractive (the average P/E ratio in Indonesia's shipping sector is 9 times). In the first six months of 2014, Soechi Lines posted a 18.3 percent growth (y/y) in revenue to USD $54.7 million, while net profit increased 52.9 percent (y/y) to USD $15.6 million over the same period.

Planned IPOs on the Indonesia Stock Exchange in December 2014:


Company
Shares to be
Issued

Value
Listing Date

Soechi Lines
15%
IDR 582.5 billion
3 December 2014
Intan Baruprana Finance
40%
IDR 520-640 billion
4 December 2014
Archi Indonesia
40.4%
IDR 3.0-3.9 trillion
15 December 2014
Impack Pratama Industri
40%
not available
17 December 2014
Bank Agris
20%
IDR 94.5-103.5 billion
22 December 2014
Golden Plantation
21.8%
IDR 200-240 billion
23 December 2014
Source: Investor Daily


If realized, these six IPOs would bring the total number of IPOs on the IDX in 2014 to 25, and the total number of companies listed on the IDX to 508 (a low figure compared to its regional peers). Ito Warsito, Director of the IDX, said that he expects 32 companies to list on the IDX in 2015.


Last Update: 29 Mar 2021
IPOs on the Indonesia Stock Exchange up to 3 December 2014
Company
P: 29 Mar 2021
P: 28 Mar 2021
Gain/Loss
P/E ttm
Yield %
Gain/Loss YTD

Bank Panin Syariah

PNBS
83
82
1.22%
N/A
0.00%
-4.60%

Asuransi Mitra Maparya Tbk.

ASMI
925
930
-0.54%
N/A
0.00%
-6.57%

Bank Ina Perdana Tbk.

BINA
1,560
1,550
0.65%
N/A
0.00%
64.21%

Capitol Nusantara Indonesia Tbk.

CANI
186
186
0.00%
N/A
0.00%
22.37%

Tunas Alfin Tbk.

TALF
310
258
20.16%
N/A
0.00%
13.97%

Bali Towerindo Sentra Tbk.

BALI
700
690
1.45%
N/A
0.00%
-6.04%

Wijaya Karya Beton

WTON
334
344
-2.91%
N/A
0.00%
-20.85%

Graha Layar Prima

BLTZ
4,600
4,650
-1.08%
N/A
0.00%
53.85%

Intermedia Capital Tbk.

MDIA
63
66
-4.55%
N/A
0.00%
3.28%

Eka Sari Lorena Transport

LRNA
180
185
-2.70%
N/A
0.00%
1.69%

Link Net

LINK
3,240
3,200
1.25%
N/A
0.00%
25.10%

Chitose Internasional

CINT
238
244
-2.46%
N/A
0.00%
-6.30%

Magna Finance Tbk.

MGNA
50
50
0.00%
N/A
0.00%
0.00%

Batavia Prosperindo Internasional Tbk.

BPII
7,300
7,300
0.00%
N/A
0.00%
-15.12%

Mitrabara Adiperdana

MBAP
2,810
2,800
0.36%
N/A
0.00%
1.08%

Sitara Propertindo Tbk.

TARA
50
50
0.00%
N/A
0.00%
0.00%

Bank Dinar Indonesia Tbk.

DNAR
196
210
-6.67%
N/A
0.00%
6.52%

Blue Bird Group

BIRD
1,345
1,335
0.75%
N/A
0.00%
-9.73%

Soechi Lines

SOCI
216
220
-1.82%
N/A
0.00%
-10.00%
Combined Total
24,386
24,350
0.15%
5.64%
Green colour indicates upward movement Red colour indicates downward movement P = price; E = earnings; D = dividend; Yield = D/P "N/A" indicates P/E < 0 (negative earnings) "-" indicates E,D,P or YTD is not available