Bank Indonesia's Interest Rates Up to Combat Inflation after Fuel Price Hike
The central bank of Indonesia decided to raise its key interest rate (BI rate) by 25 basis points from 7.50 percent to 7.75 percent on Tuesday (18/11) in a response to the subsidized fuel price hike. One day earlier, Indonesian President Joko Widodo had announced that prices of subsidized gasoline and diesel were to be raised by more than 30 percent starting from midnight in an effort to create more fiscal space for economic and social development. This move is expected to result in accelerated inflation in Southeast Asia's largest economy.



According to the statement of Indonesia's central bank (Bank Indonesia), the 25 bps increase is required to combat accelerated inflation after the fuel price hike. Bank Indonesia targets inflation in the range of 3.5-5.5 percent in 2014, and in the range of 3-5 percent in 2015. Usually a subsidized fuel price hike causes accelerated inflation for a period of three months. Yesterday, President Widodo announced that prices of subsided gasoline and diesel are to be raised by IDR 2,000 (USD $0.16) per liter, promptly leading to long queues at local gas stations just before midnight. Last week, a Bank Indonesia official estimated that an IDR 2,000 per liter fuel price hike would add about 2.5 percentage points to the country's inflation rate. As such, in the coming months inflation may reach above 7 percent year-on-year (y/y). The central bank added that the higher interest rate also has a positive impact on the country's current account balance. This balance has shown a structural deficit since late 2011 due to costly oil imports (to meet ever-increasing domestic fuel demand).

Bank Indonesia's BI Rate 2011-2014: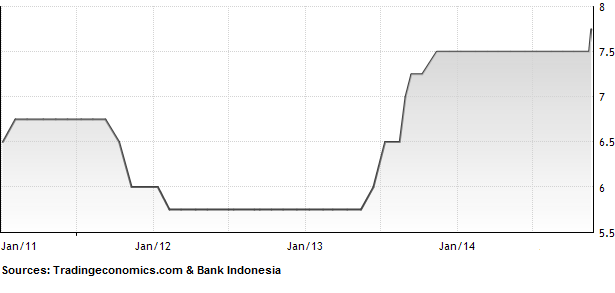 The central bank's Lending Facility is raised by 50 basis points to 8.00 percent, while the Deposit Facility remains unchanged at 5.75 percent.

Inflation in Indonesia:


Month
Monthly Growth
2013

Monthly Growth
2014

January
1.03%
1.07%
February
0.75%
0.26%
March
0.63%
0.08%
April
-0.10%
-0.02%
May
-0.03%
0.16%
June
1.03%
0.43%
July
3.29%
0.93%
August
1.12%
0.47%
September
-0.35%
0.27%
October
0.09%
0.47%
November
0.12%
December
0.55%
Total
8.38%
4.19%
Source: Statistics Indonesia (BPS)