Joko 'Jokowi' Widodo Becomes Indonesia's 7th President Today
Today (Monday 20 October 2014) Joko Widodo, popularly known as Jokowi, will be inaugurated as the seventh President of the Republic of Indonesia, effectively ending the decade-long leadership of Susilo Bambang Yudhoyono. The inauguration will take place in Jakarta's DPR/MPR building, the seat of government for the Indonesian legislative, while most of the celebrations will take place around Monas (National Monument) in Central Jakarta. Jokowi is likened by many due to his humble background and his reform-mindedness.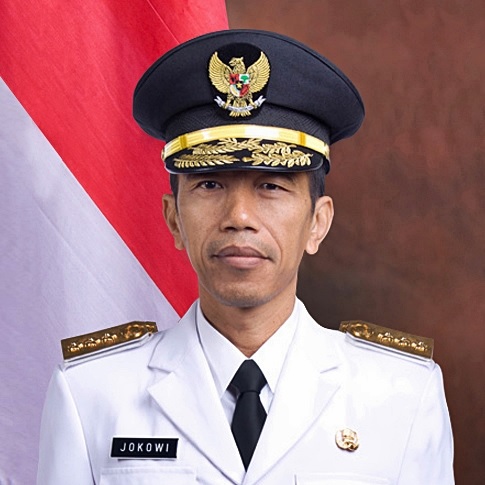 Although it is difficult for Indonesia to force a sudden break with the country's traditional political practises (which include money politics, corruption and nepotism), the Jokowi-presidency is remarkable for several reasons. Firstly, he is the first Indonesian president who does not originate from the political elite that had formed at the end of the authoritarian New Order regime. This oligarchic political elite has been in fierce competition for political power since the fall of Suharto in 1998. It has been very difficult for the younger generation of politicians to break through the walls of this 'traditional' political elite as Indonesian political parties and other institutions are still highly undemocratic in nature. Moreover, it needs large financial resources to run a presidential campaign.
However, Jokowi is the first fruit of Indonesia's recent road to democracy. The Java-born president-elect, who grew up in a poor environment, worked his way up through local politics made possible by the introduction of direct elections about a decade ago. After having set up a business in the furniture industry, Jokowi became increasingly involved in local politics. First he became the mayor of Solo (Central Java), then the Governor of Jakarta. In both cases, people supported him as his humble background made him the 'man of the people'. In 2012, Jokowi was named the world's third-best mayor by international think tank the City Mayors Foundation as he had successfully turned "a crime-ridden city (Solo) into a regional center for arts and culture, and which started to attract international tourists." Being the Governor of Jakarta, Jokowi's name rose further as he frequently performed "blusukan", sort of impromptu visits to see the real conditions of the city and to engage in direct communication with locals (for example he would visit traditional markets or slums to see with his own eyes how the local situation can be improved). He also introduced a new healthcare system and pushed for badly-needed infrastructure projects (such as the MPR System or the cleaning up of polluted rivers) in Jakarta. Although not all his efforts can be called a success (yet), it does show his reform-minded character.
As his star rose rapidly, speculation quickly emerged that Jokowi would join the 2014 presidential election. Eventually, he announced in March 2014 that he would join the race with the support for the PDI-P party (which then the legislative election in April 2014). Contrary to initial expectations, the presidential election turned out to be a close race in which Jokowi defeated controversial former army General Prabowo Subianto by a narrow margin only.
Being a new star that succeeded in breaking the power of the traditional oligarchic Indonesian elite (due to direct elections) also created enemies. Defeated presidential candidate Subianto has formed the Merah-Putih coalition, involving six political parties that together form a majority in parliament. Last month this coalition managed to pass a law that abolishes direct elections in the regions. It is expected that this was an act of revenge due to Subianto's loss in the presidential election. Backed by the Merah-Putih coalition, Subianto still has significant power in parliament and therefore some concerns have risen recently whether Jokowi can implement his reform programs effectively or will face grave opposition in parliament; a hostile parliament that opposes Jokowi for the sake of opposition.
Jokowi can rely on the support of the market, and particularly of foreign investors due to his reform-mindedness. Jokowi has repeatedly stated to appoint mostly technocrats in his cabinet (as opposed to political party politicians who are generally considered being corrupt) and to boost infrastructure development as well as social development in Southeast Asia's largest economy. One of his first steps would be to raise prices of subsidized fuels (gasoline and diesel) by about 50 percent (the government now spends about USD $20 billion on fuel subsidies per year). This move would seriously help to relieve the government budget deficit and current account deficit, thus supporting the Indonesian rupiah exchange rate and making Indonesian assets more attractive.
Jokowi is expected to face two main obstacles during his presidency. Firstly, the hostile Merah-Putih coalition which could block his reform programs, and, secondly, monetary tightening in the USA. When the Federal Reserve decides to raise its key Fed rate - causing other interest rates to rise in the world's largest economy - it will result in capital outflows from emerging economies including Indonesia. To offset the large amount of capital outflows it is thus of vital importance that Jokowi can convince foreign investors of the strong financial, fiscal and economic fundamentals of Indonesia. A subsidized fuel price hike is one of the ingredients to gain support from the market and limit capital outflows.
Foreign guests who attend Jokowi's inauguration today include US Secretary of State John Kerry and Australian Prime Minister Tony Abbott.