Palm Oil Update Indonesia: Indonesian CPO Reserves and Biodiesel
Reserves of crude palm oil (CPO) in Indonesia may have declined for a second straight month in October on the back of drought and an increase in exports from Southeast Asia's largest economy. The delayed impact of drought (which even managed to dry up several rivers in West Kalimantan in October) limited production of CPO in recent weeks. Meanwhile, exports have increased after Indonesia and Malaysia - the world's two top palm oil producers - scrapped export taxes to boost demand for this commodity.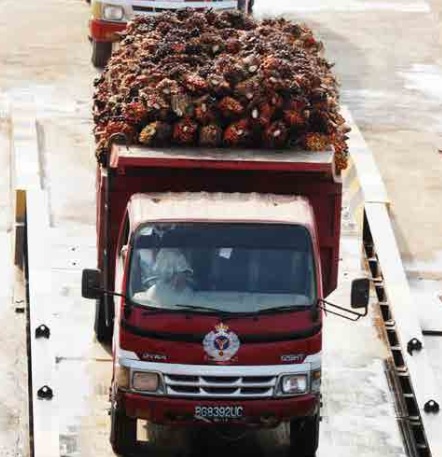 Based on information compiled by Bloomberg, Indonesian CPO stockpiles declined 4.5 percent month-on-month (m/m) to 2.1 million metric tons in October. This forecast is based on the median of five growers and refiners estimates. Meanwhile, output is forecast to fall 1.7 percent m/m to 2.26 million tons. Falling production of CPO as well as declining CPO stockpiles in Indonesia may help to push palm oil futures back above 2,500 ringgit (USD $749) per ton by March 2015.
Palm oil futures hit 1,914 ringgit (USD $572) per ton on 2 September 2014, the lowest since March 2009 thus prompting Malaysia (later followed by Indonesia) to temporarily cancel export taxes for CPO in an effort to boost CPO demand and support CPO prices. Malaysian authorities already announced that the zero export tariff will remain in place up to December. Indonesia has an 'automatic mechanism' meaning that if international and local CPO prices drop below USD $750 per metric ton, the export tax is cut to zero percent. Therefore, it is still unknown whether the zero CPO export tariff will be continued into December. However, chances are very small that the CPO price will exceed USD $750 per ton in December.
CPO exports from Indonesia may have climbed 2.3 percent m/m to 1.73 million tons in October after the tax cut as CPO demand from India, the world's top buyer, has increased. Demand from China, however, remains weak.
Drought has made production rates fall in the most important CPO growing regions of Indonesia (which are Sumatra and Kalimantan). Although parts of Sumatra may still suffer from dry weather in November, production may improve in South and East Kalimantan as there have already been reports of rain.
Regarding Indonesia's CPO production in 2015, output may increase only slightly to 31.5 million metric tons amid prolonged dry weather, particularly in Sumatra, according to the Indonesian Palm Oil Association (Gapki). Meanwhile, exports will remain flat at around 20 million metric tons next year as India may introduce an import tax on the commodity, meaning that exports will have difficulty to grow. However, limited exports to India can be offset by increased domestic biofuel usage in Indonesia as well as rising CPO demand from Pakistan. CPO exports to Pakistan have surged from 200,000 tons in 2011 to 1.2 million tons in the January-September 2014 period after both countries agreed a Preferential Trade Agreement in September 2013.
In August 2013, the Indonesian government introduced an ambitious program that stipulates a higher mandatory content of fatty acid methyl ester (which is made from palm oil) in biodiesel products (the mandatory content was raised from 7.5 percent to 10 percent). This program was launched in a bid to curb costly oil imports. As a result of this program, demand for palm-based biodiesel is expected to rise to 1.6 million tons in 2014. This may reach 4.2 million tons in 2015 and 8.85 million tons in 2016.

Indonesian Palm Oil Production and Export:


2007
2008
2009
2010
2011
2012
2013
2014¹
Production
(million metric tons)
16.8

19.2

19.4

21.8
23.5
26.5
27.0
30.5
Export
(million metric tons)
n.a

14.2

15.5

15.6
16.5
18.1
21.2
20.0
Export
(in USD billion)
n.a
15.6
10.0
16.4
20.2
21.6
19.0
18.0
¹ indicates forecast
Sources: Food and Agriculture Organization of the United Nations, Indonesian Palm Oil Producers Association (Gapki) and Indonesian Ministry of Agriculture