Low Cost Green Cars Support Car Sales in Indonesia
Domestic sales of low-cost green cars (LCGCs) in Indonesia may exceed the level of 200,000 units in 2015, a 14 percentage point growth from an estimated 175,000 sold LCGC units this year. Amid slowing domestic car sales (a consequence of the country's slowing economic growth and tighter monetary policy), popularity of the recently introduced LCGC has managed to support total car sales in Southeast Asia's largest economy. In the first ten months of 2014, a total of 1.04 million cars were sold, up 1.72 percent from the same period last year.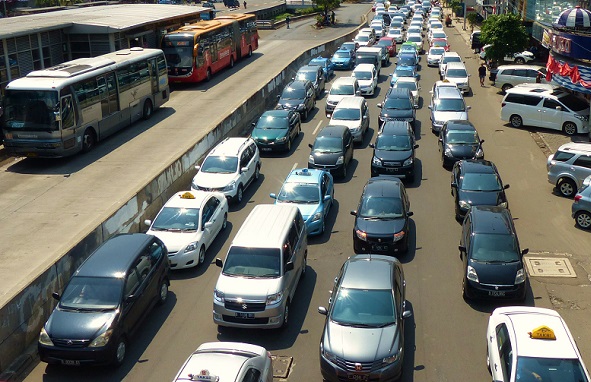 The LCGC has proved popular in Indonesia as these cars are fuel efficient and relatively cheap having a price tag of less than IDR 100 million (USD $8,265). However, despite growing strongly, the LCGC segment still forms a relatively small portion of total car sales in Indonesia. This year, the LCGC segment accounts for about 14 percent of the total car sales market (this figure is estimated to rise to 16 percent next year). The low-priced multipurpose vehicle remains the best-selling car type in Indonesia.
In September 2013, the LCGC was introduced on the Indonesian market after the government had offered tax incentives to car manufacturers that meet requirements of fuel efficiency targets. Ahead of the implementation of the ASEAN Economic Community in 2015, the government targets to turn Indonesia into the regional hub for LCGC production. Moreover, this car type will curb domestic subsidized fuel consumption. Currently, Indonesia has to cope with a wide current account deficit (primarily caused by expensive oil imports to meet domestic subsidized fuel demand). Another measure to limit the current account deficit (as well as government budget deficit) that was conducted by the government was to raise prices of subsidized low-octane gasoline and diesel by over 30 percent last week. The government targets to reallocate these funds to economic and social development (instead of on fuel consumption). Sudirman MR, Chairman of the Indonesian Automotive Industry Association (Gaikindo), said that the fuel price hike will result in lower car sales (a 10 to 15 percent decline) for a period of one to three months. Sudirman estimates that domestic car sales will reach 1.25 million in 2014 and will remain flat next year amid the tighter monetary policy of the central bank. In an effort to combat accelerated inflation (triggered by the higher fuel prices), Bank Indonesia raised its key interest rate (BI rate) by 25 basis points to 7.75 percent last week, causing higher borrowing costs and thus making it more expensive to purchase a car (almost all Indonesian buyers of cars and motorbikes use credit). With looming higher US interest rates, the central bank may raise its BI rate again in 2015 in an attempt to avert capital outflows.
The government set several terms and conditions for LCGCs. For example, fuel consumption is required to be at least 20 kilometres per liter and the car must consist for 85 percent of parts produced in Indonesia. In exchange, the LCGCs are exempted from luxury goods tax, which allows manufacturers to set cheaper prices. These cars have a maximum engine capacity of 1,200 cubic centimetres, and are designed to use high-octane gasoline (rather than the subsidized low-octane gasoline). However, many LCGC owners still use subsidized gasoline to fuel their engines.
Indonesia's LCGC industry attracted five Japanese manufacturers: Toyota, Daihatsu, Honda, Suzuki and Nissan.


Low-Cost Green Car Sales in Indonesia
January-October 2014
Toyota Agya
56,361
Daihatsu Ayla
35,858
Honda Brio Satya
21,959
Suzuki Karimun Wagon R
15,411
Datsun GO+ and GO
15,035
Total
144,624
Source: Gaikindo
Indonesia is currently still characterized by a low per capita car ownership ratio as less than four percent of Indonesia's population owns a car. Amid robust economic growth (rising purchasing power) and a rapidly expanding middle class segment, there is thus ample room for growth in Indonesia's car industry.

Indonesian Car Sales (CBU):


| | | | |
| --- | --- | --- | --- |
| Month | Sold Cars 2012 | Sold Cars 2013 | Sold Cars 2014 |
| January | 76,427 | 96,718 | 103,563 |
| February | 86,486 | 103,278 | 111,861 |
| March | 87,917 | 95,996 | 113,095 |
| April | 87,144 | 102,257 | 106,052 |
| May | 95,541 | 99,697 | 96,927 |
| June | 101,746 | 104,268 | 110,572 |
| July | 102,511 | 112,178 | 91,409 |
| August | 76,445 | 77,964 | 96,753 |
| September | 102,100 | 115,974 | 102,709 |
| October | 106,754 | 112,039 | 105,357 |
| November | 103,703 | 111,841 | |
| December | 89,456 | 97,706 | |
| Total | 1,116,230 | 1,229,916 | 1,038,298 |
2008
2009
2010
2011
2012
2013
2014¹
Indonesian Car Sales
(number of car units)

607,805
486,061
764,710
894,164
1,116,230

1,229,916
1,250,000
Indonesian Exports
(number of car units)
100,982
56,669
85,769
107,932
173,368
170,907
200,000
¹ Gaikindo forecast
Source: Gaikindo


Key Findings:


• Although still constituting a small portion of total car sales in Indonesia, the low-cost green car (LCGC) gains popularity
• Car sales in Indonesia have slowed amid the country's slowing economic growth, declining purchasing power and higher interest rate environment
• The per capita car ownership ratio of Indonesia is still very low with less than four percent of the total population (which numbers 250 million people) owning a car