Motorcycle Sales in Indonesia Rebound in September 2014
Motorcycle sales in Indonesia increased 16.0 percent month-on-month (m/m) to 711,857 units in September 2014. Sigit Kumala, Chairman for Commercial Affairs at the Indonesian Motorcycle Association (AISI), said that improved motorcycle sales are caused by the start of the harvest season in several regions across Southeast Asia's largest economy. Successful harvests have put downward pressure on commodity prices and thus have a positive impact on Indonesian's purchasing power.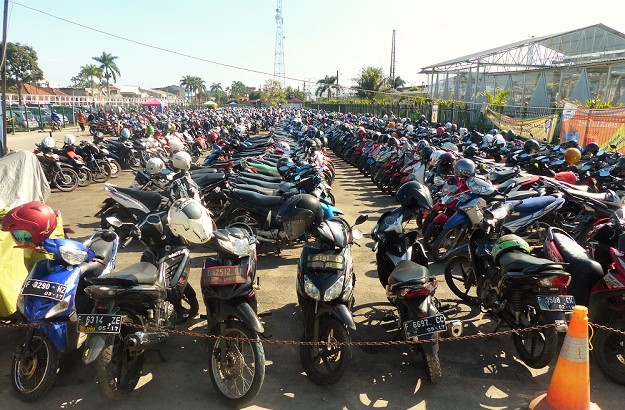 As such, Indonesian motorcycle sales improved after having declined during the past two months when several Islamic celebrations (Ramadan and Idul Fitri) and traditions (mudik) led to fewer working days. In September, on the contrary, production rates were back to normal.
The most popular motorcycle in September was the Astra Honda Motor. This brand is the traditional market leader in Indonesia controlling 63 percent of the market. In September a total of 459,705 Honda units were sold. Other popular brands are Yamaha (31 percent market share), Suzuki (4 percent market share), and Kawasaki (2 percent market share).
Kumala expects that motorcycle sales in October 2014 will be in the range of 650,000-700,000 units. AISI target a total of 8 million sold motorcycles for full year 2014. Cumulatively, motorcycle producers sold 6.1 million motorcycles in the first nine months of the year, up 4.6 percent from 5.8 million units in the same period in 2013.
Based on data from AISI, the island of Java accounts for most motorcycle sales (62.5 percent), followed by Sumatra (18.8 percent).
Motorcycles sales - similar to car sales - are important indicators to measure consumer confidence and domestic consumption. Domestic consumption in Indonesia accounts for 55 percent of total economic growth in Indonesia.

Indonesian Motorcycle Sales:


| | | | | |
| --- | --- | --- | --- | --- |
| | 2011 | 2012 | 2013 | 2014¹ |
| Motorcycle Sales in Indonesia | 8,012,540 | 7,064,457 | 7,743,879 | 6,079,915 |
| - Honda | 4,273,888 | 4,088,888 | 4,696,999 | 3,798,317 |
| - Yamaha | 3,136,073 | 2,423,854 | 2,492,596 | 1,897,340 |
| - Suzuki | 493,095 | 418,940 | 393,803 | 228,752 |
¹ January-September 2014 motorcycle sales only
Source: Indonesian Motorcycle Industry Association (AISI)