Indonesia's main Stock Index (IHSG) after Ben Bernanke's Speech
Similar to the Jakarta Great Sale event, Indonesia's main stock index (IHSG) trades its stocks at low prices as foreign investors have sold large parts of their Indonesian stock assets in recent weeks. Last week, foreign investors sold IDR 4.9 trillion (about USD $492.4 million), meaning that this year's accumulated foreign net buying has evaporated. Will these sales continue? Yes, I think so. Foreigners have invested about IDR 144 trillion in Indonesia's capital markets between 2007 and Q1-2013. As such, there is still plenty to sell.
If we take a closer look at the table below, we see that foreign investment in Indonesia's capital markets has increased from year to year. We can also detect the trend that, when there is a quarter in which many foreign funds enter Indonesia's capital markets, there's a sharp fall in foreign investment in the next quarter. As such, when foreigners record net buying of IDR 18 trillion in Q1-2013, it is not surprising if they will sell up to IDR 20 trillion in Q2-2013. Moreover, it is not impossible that foreigners continue to sell assets in the third and fourth quarters of 2013.

Table 1: Net Buy/Sell Foreign Investors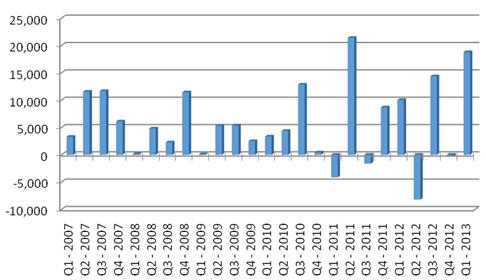 Consequences of Ben Bernanke's Speech


With regard to Ben Bernanke's speech last Wednesday (19/06), there are a number of important points.
"If future economic data will improve consistently and will be in line with our projections, the Fed will consider a gradual scaling back of the bond buying program in 2013, until a complete stop to the program in 2014."
Bernanke's quote above disapointed many investors around the globe due to the potential loss of liquidity in the market. It caused many investors to panic and sell large amounts of their stock portfolios, subsequently resulting in falling stock markets worldwide. Bernanke continued:
"If you think that I will put an end to the quantitative easing program next year, you are wrong. The decision to end the program relies on the economic condition of the USA this and next year. If economic recovery is not in line with our predictions, we will continue the stimulus program."
The Fed's quantitative easing program will thus only be stopped if macroeconomic indicators of the USA are considered as conducive. Although the country's economy is indeed showing a recovery, there are analysts who question the quality of the recovery. The US Trade Department lowered its forecast for economic growth by 0.1 percent in late May 2013. But if the economic recovery does indeed proceed then it will have a good impact on the Indonesian economy as well. Governor of Bank Indonesia (BI) Agus Martowardojo estimates that Indonesia's GDP growth in 2014 will be between 6.4 to 6.8 percent as a recovering US economy will have a good impact on Indonesia's exports.

Chart 1: Quantitative Easing Programs and IHSG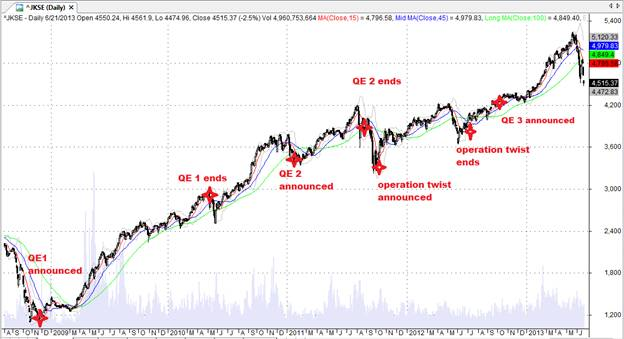 The chart above shows that the IHSG always falls ahead of the ending of a quantitative easing program but recovers quickly, except for the time interval between the end of QE2 and Operation Twist.
Next week, Indonesia's index will still be susceptible to asset dumping by foreigners and volatility is expected to be similar to last week. There are plenty of reasons why foreigners may continue to sell their Indonesian assets: slower economic growth, threat of higher inflation, and the trade deficit. This situation may change in the third quarter if Indonesia's robust economic growth can be put back on track. Lastly, I want to mention that the price to earnings ratio (PER) of the IHSG has been reduced to 15.2 times.
David Sutyanto is a research analyst at First Asia Capital