Malaysia & Indonesia Expected to Maintain Duty-Free Palm Oil Exports
The world's two largest crude palm oil (CPO) producers and exporters, Indonesia and Malaysia, are expected to maintain their zero percent export tariffs for CPO in January 2015 according to Dorab Mistry, Executive at Godrej Industries Ltd (India's leading manufacturer of oleochemicals), in an interview to international news agency Reuters. Authorities in Malaysia (since September 2014) and Indonesia (since October 2014) have implemented duty-free CPO shipments in an effort to boost global CPO demand and prices.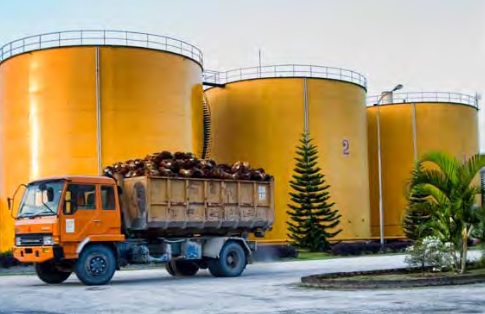 International prices for crude palm oil have been sluggish, hovering near five-year lows amid the weak global economy (particularly slowing growth in the world's two largest CPO importing countries, India and China, provides downward pressures on prices). Moreover, sharply falling oil prices in recent months imply that there demand for palm oil-based biofuels reduces. Palm oil futures in Kuala Lumpur traded at 2,174 ringgit (USD $625) per metric ton on Wednesday (10/12), having improved slightly from the recent low of 1,914 ringgit (USD $572) per ton in early September after global CPO demand rose due to the zero percent CPO export tariffs in Malaysia and Indonesia. However, stakeholders and analysts in the palm oil industry estimate that CPO prices will remain sluggish throughout the first quarter of 2015.
The Indonesian government uses a price mechanism to set export duties for palm oil. When the benchmark (i.e. the average of local and international palm oil prices) falls below USD $750 per ton, then palm oil exports become duty-free. Provided that global crude oil prices remain weak, then it is highly unlikely for this benchmark CPO price to exceed the USD $750 per ton threshold in January 2015. Malaysia uses a different mechanism; when the average monthly benchmark CPO price (determined by the Malaysian Palm Oil Board) transcends 2,250 ringgit then a 4.5 percent export tax is implemented.

Indonesian Palm Oil Export in 2014:


Month
Volume
(million tons)
January
1.57
February
1.58
March
1.79
April
1.38
May
1.70
June
1.79
July
1.84
August
1.72
September
1.69
October
2.47
Total
17.53
Source: Indonesian Palm Oil Association (Gapki)


Indonesian Palm Oil Production and Export:
2008
2009
2010
2011
2012
2013
2014¹
2015¹
Production
(million metric tons)

19.2

19.4

21.8
23.5
26.5
27.0
31.0
32.5
Export
(million metric tons)

15.1

17.1

17.1
17.6
18.2
21.2
20.0
21.6
Export
(in USD billion)
15.6
10.0
16.4
20.2
21.6
19.0
18.4
¹ indicates forecast
Sources: Food and Agriculture Organization of the United Nations, Indonesian Palm Oil Producers Association (Gapki) and Indonesian Ministry of Agriculture

Key Findings:


• Malaysia and Indonesia expected to maintain duty-free palm oil exports at the start of 2015
• Global palm oil prices have been hovering near five-year lows due to weak demand from China and India as well as sharply weakening crude oil prices (curbing demand for palm oil-based biofuels)
• Forecasts for palm oil prices in the first quarter of 2015 remain bleak

Further Reading:


• Palm Oil Industry in Indonesia: Update on CPO Production & Export
• Analysis & Forecast of Indonesia's Palm Oil Export and CPO Prices
• Analysis of the Palm Oil Industry in Indonesia