Indonesia Investment Coordination Board Targets 15% Investment Growth
Government investment service agency Indonesia Investment Coordinating Board (BKPM) targets IDR 524 trillion (USD $42 billion) worth of investments in 2015, a 15 percent growth from estimated investment realization this year (IDR 450 trillion). BKPM is optimistic that after the 'political year' of 2014 (due to the legislative and presidential elections) the new government will push for the implementation of various infrastructure projects such as toll roads, harbours and airports, thus making Indonesia more attractive to foreign investors.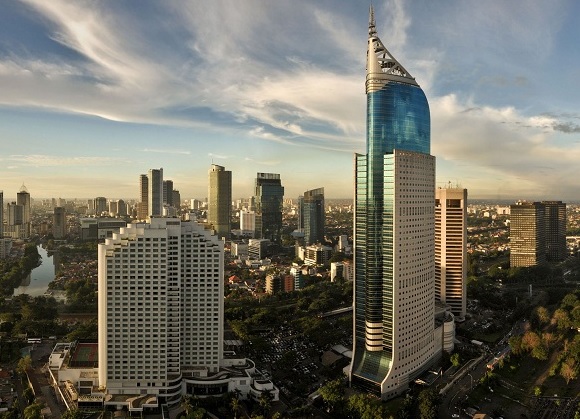 Azhar Lubis, Deputy Chairman of Investment Monitoring and Implementation at the BKPM, said that the Joko Widodo-led government has shown commitment to its earlier promise to implement structural reforms by raising prices of subsidized fuels (low-octane gasoline and diesel) by more than 30 percent in November 2014. This move saves the country considerable funds in the 2015 State Budget and, provided that part of these funds are used for infrastructure development, it will lead to accelerated investments in Southeast Asia's largest economy. Currently, Indonesia has to cope with a lack of quality and quantity of infrastructure, making investors less eager to invest in the country.
Another measure to attract investment is to smoothen the permitting procedures in Indonesia. Severe bureaucracy (red tape) has been an obstacle for many investors. To simplify the permitting process the BKPM will work together with all regional institutions to implement a single window system. Lubis said that the BKPM is currently coordinating the implementation of this single window system on the regional level and it should be ready for implementation by February 2015.
Lubis added that the BKPM is also focused on easing land acquisition bottlenecks. In recent years many projects have been delayed or cancelled due to the difficulty to buy land or due to uncertainty about land ownership.
Currently, total direct investment in Indonesia is dominated by foreign investment. Foreign direct investment (FDI) accounts for about 70 percent of total investment. Therefore, it is also important for Indonesia to enhance domestic investment. Moreover, there is a high degree of inequality in terms of geographical location of investments. Most investments are focused on Java, Indonesia's most populous island located in the western part, while the eastern part of Indonesia has been ignored. However, this is not a new phenomenon. Since human memory, economic activity (and thus political activity as well) has been focused on the western part of Indonesia as this part is closely located to the main trading routes (for example the Malacca Strait) whereas the eastern part is located in a more-or-less economic vacuum. As a side effect, relative poverty figures are much higher in the eastern part of Indonesia.

Foreign and Domestic Investment in Indonesia (in IDR trillion)


2014

Q1
Q2
Q3
Q4
Domestic Direct Investment
34.6
38.2
41.6
Foreign Direct Investment
72.0
78.0
78.3
Total Investment

106.6
116.2
119.9
2011

2012
2013
Q1
Q2
Q3
Q4
Q1
Q2
Q3
Q4
Q1
Q2
Q3
Q4
Domestic Direct Investment
14.1
18.9
19.0
24.0
19.7
20.8
25.2
27.5
27.5
33.1
33.5
34.1
Foreign Direct Investment
39.5
43.1
46.5
46.2
51.5
56.1
56.6
65.5
65.5
66.7
67.0
71.2
Total Investment

53.6
62.0
65.5
70.2
71.2
76.9
81.8
83.3
93.0
99.8
100.5
105.3
Source: Indonesia Investment Coordinating Board (BKPM)


Governor of Indonesia's central bank (Bank Indonesia) Agus Martowardojo said that he hopes to see more foreign direct investment in productive sectors in order to curb the country's wide current account deficit. Martowardojo emphasized that although FDIs will result in higher imports in the short term (and thus burdening the current account balance), it will give rise to more exports on the longer term provided that the investments enhance the country's industrial output. Curbing the wide current account deficit is of vital importance to foster foreigners' confidence in Indonesia's financial fundamentals. Countries with a high current account deficit are particularly susceptible to portfolio outflows in times of global shocks (such as looming higher US interest rates). Since late 2011, Indonesia has had to cope with a structural current account deficit, primarily caused by costly oil imports to meet domestic fuel demand. Bank Indonesia targets to see the current account deficit ease to about 3 percent of GDP by the year-end (from 3.3 percent of GDP in 2013).

Current Account Balance Indonesia (% of GDP):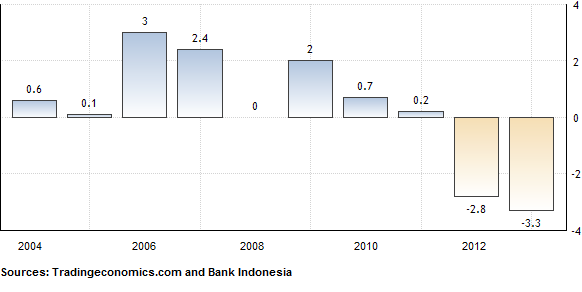 The Indonesian government would like to boost investments as a strategy to achieve its 5.8 percent GDP growth target in 2015. Since 2011 Indonesia has experienced slowing economic growth amid external turmoil and internal rebalancing of the economy. In the third quarter of 2014, GDP growth slowed to 5.01 percent (year-on-year), the slowest pace in five years. President Joko Widodo aims to achieve a +7 percent (y/y) growth figure by 2019 through the implementation of structural reforms.