Trade Balance of Indonesia: Surplus of USD $69.9 Million in May 2014
After a worrying trade deficit of USD $1.96 billion in April 2014, the trade balance of Indonesia swung back into a surplus in May 2014. On Tuesday (01/07), Indonesia's Central Statistics Agency (BPS) announced that the May trade surplus was USD $69.9 million. The country's exports rose 3.73 percent (month-on-month) to USD $14.83 billion, while imports fell 9.23 percent (month-on-month) to USD $14.76 billion in May. However, in the first five months of 2014 Indonesia still recorded a trade deficit of USD $0.82 billion.
Later today, Indonesia Investments will upload an analysis of Indonesia's May 2014 trade balance.

Indonesia Balance of Trade (in USD million):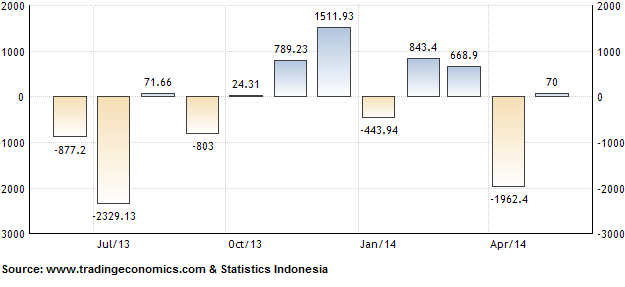 Meanwhile, Bank Indonesia's benchmark rupiah exchange rate (Jakarta Interbank Spot Dollar Rate, abbreviated JISDOR) appreciated sharply on Tuesday. The central bank's mid-rate appreciated 1.43 percent to IDR 11,798 per US dollar.

US Dollar to Indonesian Rupiah:


| Source: Bank Indonesia
–