World Bank Report: GDP Growth Indonesia Revised to 5.2% in 2015
On Monday (08/12) the World Bank released the December edition of its Indonesia Economic Quarterly, entitled 'Delivering Chance'. In the report the World Bank cut its forecast for economic growth in Indonesia next year to 5.2 percent (y/y), from 5.6 percent (y/y) in the July edition of its flagship publication, due to weaker investment growth and sluggish exports. Indonesia's GDP growth in 2014 is projected at 5.1 percent (y/y), slightly below the World Bank's previous estimate of 5.2 percent.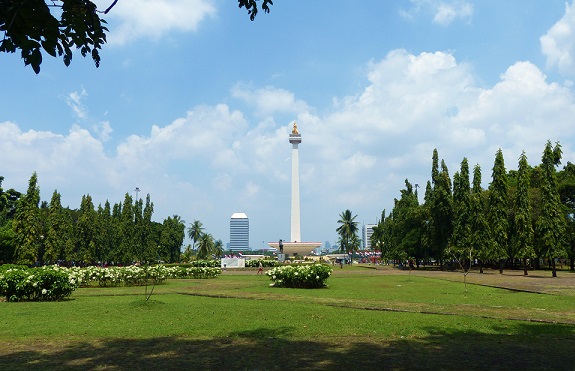 The World Bank detects a moderation of global economic expansion which puts downward pressure on Indonesia's key export commodities such as palm oil and coal. Moreover, future forecasts regarding commodity prices are still bleak. However, although investment growth has slowed amid political uncertainties in the country's 'political year' (the fragmented outcomes of Indonesia's 2014 legislative and presidential elections), foreign and domestic investments may accelerate in 2015, supported by encouraging initiatives of Indonesia's new Joko Widodo-led government. During his presidential campaign Widodo repeatedly emphasized the need for structural reforms in order to boost the domestic economy and reverse the economic slowdown (Indonesia has had to cope with slowing economic growth since 2011). One example of Widodo's commitment to push for structural reforms is the recent subsidized fuel price hike to relieve pressures on the current account deficit and government budget deficit as well as to free-up funds (about IDR 100 trillion) for economic and social development (such as healthcare and infrastructure development). The World Bank expects that Indonesia's current account deficit will ease from 3.1 percent of GDP (USD $6.8 billion) in the third quarter of 2014 to 2.8 percent of GDP in 2015. However, as a consequence of the subsidized fuel price hike, inflation is expected to accelerate to 7.5 percent (y/y) in 2015.
World Bank Country Director for Indonesia, Rodrigo Chavez, said that "Indonesia's resilient private consumption base continues to shore up domestic demand and growth. Strengthening the other foundations of the economy and strengthening the investment climate will help return Indonesia to a stronger growth trajectory."



The Indonesia Economic Quarterly has two main aims. First, it reports on key developments over the past three months in Indonesia's economy, and places these developments in a longer-term and global context. Based on these developments, and on policy changes over the period, the report regularly updates the outlook for Indonesia's economy and social welfare. Secondly, the report provides a more in-depth examination of selected economic and policy issues, and analysis of Indonesia's medium-term development challenges.

Key Findings in the Indonesia Economic Quarterly December 2014


• Indonesia's newly elected president took office on 20 October 2014. The new government has set out a series of ambitious development goals, particularly on the development of energy and other infrastructure, as well as social programs.
• Bold reforms and implementation will be required, in three areas focused on in this edition of the IEQ: "collecting more", i.e. mobilizing more public revenues, "spending better", i.e. improving public service delivery, and to "facilitate business", for example, to enable Indonesian firms and workers to seize the opportunities afforded by greater regional economic integration.
• The 34 percent average increase in subsidized gasoline and diesel prices effective on 18 November 2014 is expected to have a limited negative short-term effect on private consumption and GDP, helped by higher compensatory social spending and the prospect of some savings being redirected towards infrastructure investment. The impact on inflation is expected to be pronounced but temporary, lifting consumer price index by approximately 3 percent points before dropping out of the annual comparison late next year, resulting in average annual headline inflation in 2015 of a projected 7.3 percent.
• International economic conditions and their impact on Indonesia remain mixed. Among major economies, activity has picked up in the US but has disappointed in the Euro Area and Japan. China's economic rebalancing has continued, resulting in a somewhat slower pace of growth. Crude oil prices have fallen by over 30 percent since June, to four-year lows. Since Indonesia is a net importer of oil, this should provide some welcome support for the terms of trade.
• The global economy is still expected to pick up, but near-term global growth forecasts have gEnerally been revised lower, and emerging markets as a whole are now generally expected to grow at rates below those observed over the past decade. This moderation in global growth expectations has contributed to the continued softening in recent months of the international prices of Indonesia's key export commodities.
• Indonesia's economy recorded another quarter of moderate growth due to weaker investment and exports. Projected GDP growth for 2014 is revised to 5.1 percent, down from our July projection of 5.2 percent, and more substantially to 5.2 percent in 2015 (from 5.6 percent prior), while in 2016 the World Bank expects GDP to accelerate to 5.5 percent.
• The continued weakness of export revenues, despite a resumption of some mineral exports over the second half of 2014, has meant that Indonesia's current account deficit has narrowed only to 3.1 percent of GDP in the third quarter. Within the wider current account, the goods trade balance turned positive, helped especially by subdued imports. On the financial account side of the balance of balance payments, direct investment and net portfolio investment, notably foreign purchases of government bonds, remained strong.
• In the fiscal sector, total revenue collection growth has continued to come in below nominal GDP growth despite a lift to exchange rate sensitive revenues from the weaker Rupiah compared with previous years.
• Indonesia faces both challenges and opportunities from the ASEAN Economic Community due to be implemented on December 2015. Positioning Indonesia to benefit fully places an additional premium on taking needed steps to support economic competitiveness, especially by addressing infrastructure and skills gaps, and reforming regulations so as to lower firms' costs.

Indonesia's Quarterly GDP Growth 2009–2014 (annual % change):
| | | | | |
| --- | --- | --- | --- | --- |
| Year | Quarter I | Quarter II | Quarter III | Quarter IV |
| 2014 | 5.22 | 5.12 | 5.01 | |
| 2013 | 6.03 | 5.89 | 5.62 | 5.78 |
| 2012 | 6.29 | 6.36 | 6.16 | 6.11 |
| 2011 | 6.45 | 6.52 | 6.49 | 6.50 |
| 2010 | 5.99 | 6.29 | 5.81 | 6.81 |
| 2009 | 4.60 | 4.37 | 4.31 | 4.58 |
Source: Statistics Indonesia (BPS)


Gross Domestic Product of Indonesia 2006-2013:


2006
2007
2008
2009
2010
2011
2012
2013
GDP
(in billion USD)
285.9
364.6
432.1
510.2
539.4
706.6
846.8
878.0
GDP
(annual percent change)
5.5
6.3
6.1
4.6
6.1
6.5
6.2
5.8
GDP per Capita
(in USD)
1,643
1,923
2,244
2,345
2,984
3,467
3,546
3,468
Sources: World Bank, International Monetary Fund (IMF) and Statistics Indonesia (BPS)


Further Reading:


• World Bank - Indonesia Economic Quarterly December 2014, 'Delivering Chance'
• Economic Growth of Indonesia Slows to 5.01% y/y in Third Quarter 2014
• Analysis of Indonesia's Gross Domestic Product