The Rise of Indonesia's Cement Production and Consumption
Both Indonesia's cement production and cement consumption have risen rapidly in recent years. As the country has been showing solid economic growth for a decade - and is forecast to continue this growth -, property and infrastructure projects have grown in number accordingly, thus increasing demand for building materials such as cement. Moreover, the government is committed to enhance the country's much-needed infrastructure development.
The table below indicates this rapid rise in both cement production and consumption in Indonesia:
2010
2011
2012
2013
Cement Production
in million tons
37.8
52.0
60.6¹
65.0¹
Cement Consumption
in million tons
40.8
48.0
55.0¹
61.0¹
¹ indicates a forecast
Source: Indonesian Cement Association
The Indonesian residential sector is the largest consumer of Indonesian cement, followed by infrastructure.
Per capita cement consumption in Indonesia - which currently stands at around 200 kilogram per year - is one of the lowest in Asia, and in combination with a booming (macro)economy it therefore contains ample room for growth. Currently the island of Java accounts for more than half of Indonesia's total cement consumption, followed by the islands of Sumatra, Kalimantan and Sulawesi. Java and Sumatra together account for around 75 percent of Indonesian cement consumption. These two islands (Java in particular) are home to the majority (almost 80 percent) of Indonesians. But, although small in absolute numbers, the cement consumption share is increasing fastest in Eastern Indonesia. The period January-November 2012 brought a 54 percent increase in cement consumption in eastern Indonesia compared to the same period in the previous year. In Java and Sumatra these numbers were much lower (15 and nine percent respectively) during the same period.
Indonesian Islands or Regions and Domestic Cement Consumption Shares in 2012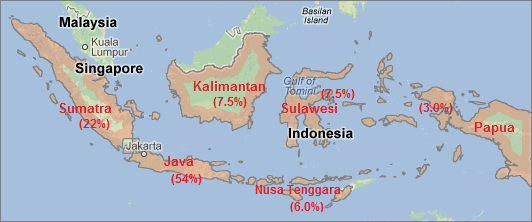 What Factors Contribute to Indonesia's Rising Cement Consumption?
Indonesia has been experiencing continuous and robust economic growth for a number of years. The country's gross domestic product (GDP) grew over six percent annually since 2007 (except for 2009 when international turmoil caused Indonesia's GDP growth to drop to (a still impressive) 4.6 percent. Moreover, future projections predict that this growth is most likely to remain above six percent in the coming years. The principal pillars of Indonesia's current GDP growth are domestic consumption and investments. The former accounts for around two-thirds of Indonesia's GDP growth and is fueled by a quickly expanding Indonesian middle class. According to a World Bank report, each year seven million people join the ranks of Indonesia's middle class and their subsequent consumptive behavior and demands give rise to new housing and real estate development.
The development of property projects is also supported by Indonesia's stable and historically low benchmark interest rate (5.75 percent since February 2012). Property projects are therefore predicted to continue its pace in the next quarters, despite a government policy, introduced last year, that stipulates an increase in down payment on mortgages to 30 percent.
Similarly, the planning of infrastructure projects is on the rise. The Indonesian government realizes the lack of quantity and quality of the country's infrastructure and is currently focused on increasing investments in this sector; both direct and in cooperation with the private sector through public-private partnerships. This will have an impact on domestic cement demand as large quantities of cement are needed to build the large-scale infrastructure projects (which includes roads, bridges, airports and seaports). In October 2012, the House of Representatives (DPR) agreed on raising infrastructure spending in the 2013 budget to 216 trillion rupiah (a 28 percent increase compared to the 2012 budget), implying that infrastructure spending accounts for around two percent of the country's gross domestic product in 2013; a number which is rather low compared to countries like China and India that spend almost ten percent of their GDP on infrastructure.

Matters that Hamper Growth in Indonesia's Cement Sector
The lack of public funding makes the government turn to the private sector. Generally it is considered ideal to have a 2:1 ratio regarding capital investment in the infrastructure sector; two units supplied by the private sector and one by the government. Although the government is pushing for more investment in Indonesia's infrastructure through the Masterplan for Acceleration and Expansion of Indonesia Economic Development (MP3EI), in which private sector participation is regarded vital, it can be stated that there is more planning than action. Up to now, the private sector is hesitant to play their part as Indonesia is known as having an unproductive bureaucracy, a weak legal system and widespread corruption. There is also no history yet of fruitful public-private partnerships. Taken together, it makes private investors reluctant to engage in risky and expensive long-term investment projects.
Regarding legal certainty and bureaucracy there is a positive development. In late 2011, Indonesia's parliament approved the Land Acquisition Bill. This bill is expected to fasten much needed government infrastructure projects by providing a better regulated legal framework. In sum, this bill will make it easier and less timely for government projects to acquire land, while compensating the previous land owners. On the downside, this law is currently still in an infancy state.
Although the Indonesian cement sector is booming, global economic uncertainty brought on by structural problems in the European Union and United States can influence Indonesia's national economic growth, thus affecting domestic cement demand. Also proposed cuts in electricity and fuel subsidies can negatively affect the cement industry: starting from January 2013, the Indonesian government intends to raise electricity tariffs gradually, while a reduction in expensive fuel subsidies is placed high on the government's agenda to relieve the annual budget deficit.

Cementing the Future of Indonesia
But despite these (potential) bottlenecks, property and infrastructure projects have caused Indonesia's cement production and consumption numbers to soar in recent years, with no end in sight yet. Indonesia witnessed an increase in cement producers (in particular from China), while established companies are expanding through optimizing production capacity in their manufacturing plants. The country's three largest cement makers (listed below) are all planning investments to increase output capacity, resulting in an expected cement production of 65 million tons in 2013. Expansion of these companies - through the building of new cement plants - mainly take place on Java. As a side effect of Indonesia's robust domestic demand, cement exports have declined; in 2011 only around 2 percent of domestic cement production was exported.
Click on a company's name below to read its company profile:
¹ private company