Business Trips & Tourism in Indonesia Boost Hotel Development
As the number of foreign tourists rise rapidly and there is increasing demand for conferences, exhibitions and business meetings, Indonesia will see a massive inflow of investments for the construction of hotels and condominium hotels (condominium hotels combine features of apartments and hotels). In 2015, the value of new (condo) hotels projects is estimated at IDR 38.5 trillion (USD $3.2 billion), up 57.3 percent from last year. Locations that attract tourists and locations close to education centers are the primary choice.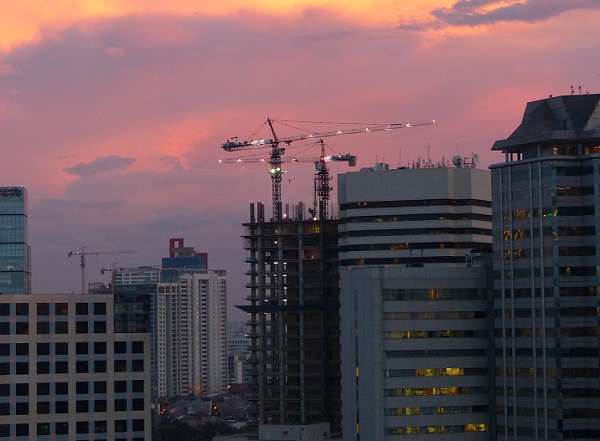 Most of the projects will be developed in West Java, Indonesia's most populous province, and the island of Bali, the most popular tourist destination in Indonesia. Meanwhile, domestic property developers are aggressively developing mixed-used development projects (which combines residential, commercial and hospitality use) in Makassar (Sulawesi), Balikpapan (Kalimantan) and Medan (Sumatra). For 2015, such projects are also planned in Semarang, Malang, Lombok, Kupang, Ambon and Sorong. Due to increased competition in the domestic hotel sector, the construction of such mixed-use projects is considered a safer option (although requires significantly more capital). Meanwhile, research conducted by Intiland Development shows that the market for budget hotels rises rapidly.

Hotel Construction Development in Indonesia:


2012
2013
2014
2015
Construction Value
(in IDR trillion)
14.6
24.6
24.5
38.6
Growth YoY
77%
68%
-0.24%
57%
Source: BCI Asia

Growth of foreign tourist arrivals in Indonesia has risen rapidly in recent years. In 2007, the world's largest archipelago was visited by a total of 5.5 million foreign tourists. This figure is expected to have risen to 9.5 million tourists in 2014. However, despite strong growth, Indonesia still lags behind its regional peers in terms of foreign tourist arrivals. For example, Malaysia and Singapore welcomed 18 million and 20 million foreign tourists, respectively, in 2013. Considering that Indonesia contains abundant attractions for tourists - including beautiful beaches and mountains, diverse cultures, and historic sites - there is still ample room for growth in tourist numbers. To optimize tourist flows, Indonesia will enhance promotion and marketing abroad. Moreover, Indonesia is expected to scrap visa requirements for foreign visitors from Australia, China, Japan, South Korea and Russia (starting from January 2015) in an attempt to boost the number of foreign tourists. Although this move implies that Indonesia misses out on USD $11.3 million per year (as currently USD $35 is charged per 'visa on arrival'), it is expected to result in an additional 450,000 foreign tourists per year. Considering that each tourist spends an average USD $1,200 during his/her holiday in Indonesia, the country will thus gain around USD $540 million in additional foreign exchange per year.

Foreign Tourist Arrivals in Indonesia:


Month
Tourist Arrivals
2013

Tourist Arrivals
2014
January
614,328
753,079
February
678,415
702,666
March
725,316
765,607
April
646,117
726,332
May
700,708
752,363
June
789,594
851,475
July
717,784
777,210
August
771,009
826,821
September
770,878
791,296
October
719,900
November
807,422
December
766,966
Total
8,802,129
6,946,846


2007
2008
2009
2010
2011
2012
2013
2014¹
Foreign Tourists
(in millions)

5.51
6.23
6.32
7.00
7.65
8.04
8.80
9.50
¹ indicates government target
Source: Statistics Indonesia (BPS)


Indonesia has been experiencing solid economic growth for over a decade. Although, recently this growth has slowed amid international economic turmoil and internal fiscal rebalancing, analysts are confident that GDP growth in Southeast Asia's largest economy will bounce back to the level of +6 percent y/y in 2016 and may touch +7 percent y/y by 2019 provided that the Joko Widodo-led government will continue to implement structural reforms. In line with economic growth, domestic and foreign direct investments in Indonesia have risen as well (to record high levels in the third quarter of 2014), implying that demand for office space and other facilities (such as conference centers and hotels) rises continuously. In Q3-2014, total investment in Indonesia reached IDR 119.9 trillion (USD $9.9 billion). Mahendra Siregar, Chairman of the Indonesia Investment Coordinating Board (BKPM), expects that foreign direct investment (FDI) will grow 15 percent y/y in 2014, and 18 percent y/y in 2015. However, these figures are much lower than the 22 percent growth pace recorded in 2013.

Foreign and Domestic Investment in Indonesia:


2014

Q1
Q2
Q3
Q4
Domestic Direct Investment
34.6
38.2
41.6
Foreign Direct Investment
72.0
78.0
78.3
Total Investment

106.6
116.2
119.9
2011

2012
2013
Q1
Q2
Q3
Q4
Q1
Q2
Q3
Q4
Q1
Q2
Q3
Q4
Domestic Direct Investment
14.1
18.9
19.0
24.0
19.7
20.8
25.2
27.5
27.5
33.1
33.5
34.1
Foreign Direct Investment
39.5
43.1
46.5
46.2
51.5
56.1
56.6
65.5
65.5
66.7
67.0
71.2
Total Investment

53.6
62.0
65.5
70.2
71.2
76.9
81.8
83.3
93.0
99.8
100.5
105.3
in IDR trillion
Source: Indonesia Investment Coordinating Board (BKPM)