Crude Oil Price Update: OPEC to Meet in Vienna to Discuss Falling Prices
Global oil prices fell on Wednesday - with US oil declining to a new four-year low - amid expectation that the OPEC will not take significant action in response to the declining oil prices. The price of benchmark US light sweet crude or West Texas Intermediate (WTI) for delivery in January fell USD $0.40 to USD $73.69 per barrel on the New York Mercantile Exchange, the lowest price level since September 2010, while the European benchmark, Brent crude for January delivery fell USD $0.58 to USD $77.75 a barrel in London trading.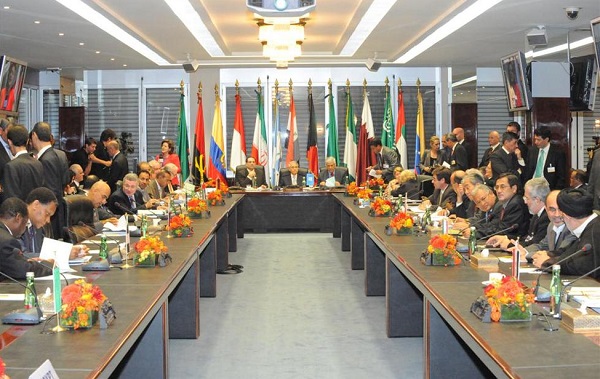 Although declining oil prices are great news for people who drive cars as they need to pay less at gas stations and for businesses as energy bills become less expensive, several of the oil producing countries united in the Organization of the Petroleum Exporting Countries (OPEC) have different interests as their state budgets stand or fall with oil revenue (declining oil prices imply that they miss out on billions of US dollars). Today (27 November 2014), the OPEC will meet in Vienna to discuss plunging oil prices (since June the price has fallen 30 percent). However, regarding the approach to tackle plunging oil prices, these countries seem hopelessly divided and that is one reason why analysts expect that the OPEC will not decide to do anything yet.
Saudi Oil Minister Ali al-Naimi (quoted by Dow Jones Newswires) said that he expects the oil market "to stabilize itself", thus showing that he does not see the need to cut production rates yet. Meanwhile, Iranian Oil Minister Bijan Namdar Zanganeh took a similar stance to Naimi, although Zanganeh did express concern about the abundance of the oil supply, particularly pointing to an increased excess oil supply in 2015.
Analysts say that the OPEC needs to make a strong statement after the Vienna meeting in order to avert further declining oil prices. A strong statement would be to cut its production ceiling from the current level of 30 million barrels per day (bpd) or put pressure on OPEC member countries to comply with the current production ceiling. According to the International Energy Agency (IEA), OPEC members produced 30.6 million bpd last month. Andy Lipow, President of Lipow Oil Associates LLC, an energy consulting firm in Houston, said that "without a strong statement - backed by Saudi Arabia - oil prices may touch USD $60 per barrel soon."
The OPEC currently has 12 members (Iran, Iraq, Saudi Arabia, Venezuela, United Arab Emirates, Qatar, Nigeria, Libya, Kuwait, Ecuador, Angola and Algeria). Together, these countries account for about 40 percent of global oil production and each six months the countries meet to discuss oil production rates to maintain a steady oil price. This price cannot go too high as it would turn many customers away from crude oil to other energy sources (for example gas), but the price can also not go too low as it would jeopardize fiscal stability of the OPEC member countries. Economists at the Deutsche Bank calculated that Venezuela requires an oil price of at least 97.39 euro per barrel to maintain a healthy fiscal balance. Russia, for example, needs an oil price of at least 82 euro per barrel. For every US dollar that the oil price sinks, Russia misses out on USD $2.3 billion in state revenue.
However, despite the fact that an oil oversupply of OPEC members has indeed placed more downward pressure on global oil prices, the primary reason why oil prices have fallen sharply is due to reduced global oil demand as industries produce less amid the sluggish global economy. Moreover, US oil shale reserves are huge (recently new reserves have been found) meaning that the world's largest economy need less oil imports from abroad. The USA now accounts for about 14 percent of the world's total oil output.
For Indonesia, declining oil prices are positive to curb the country's wide current account deficit. This deficit eased to USD $6.84 billion, or 3.07 percent of the country's gross domestic product (GDP) in the third quarter of 2014 (down from USD $8.69 billion, or 4.07 percent of GDP in the previous quarter) and is mainly caused by costly oil imports to meet domestic fuel demand. The Indonesian government subsidizes low-octane gasoline and diesel and therefore the state budget is highly vulnerable to global oil price swings. To free-up fiscal room for economic and social development, the government raised prices of subsidized fuels last week by over 30 percent. Before this price hike, the government's fuel subsidy bill would have climbed to over USD $20 billion in 2015.
Indonesia used to be an OPEC member. However, amid a decline in the country's oil production in combination with increased domestic fuel demand, it turned into a net oil importer from 2004, implying that it had to terminate its long-term membership (1962-2008) in the OPEC.