Financial Update Indonesia: Rupiah, Current Account and Bonds Issuance
Indonesia's central bank (Bank Indonesia) said that it expects the Indonesian rupiah exchange rate to trade between IDR 11,600 and IDR 11,800 per US dollar throughout the fiscal year of 2014. Governor of Bank Indonesia Agus Martowardojo said that this assumption is based on pressures that originate from Indonesia's current account deficit. In 2013, the current account deficit hit USD $29.09 billion, or 3.33 percent of the country's gross domestic product (GDP). The current account balance has a major influence on the performance of a currency.


| Source: Bank Indonesia

In the first quarter of 2014, the country recorded a current account deficit of USD $4.19 billion, equivalent to 2.06 percent of GDP. Deputy Governor of Bank Indonesia Perry Warjiyo said that Indonesia's current account deficit will be around 2.8 to 2.9 percent of GDP by the end of 2014. A figure below the 3.0 percent mark is considered as a sustainable figure.

Current Account Balance Indonesia: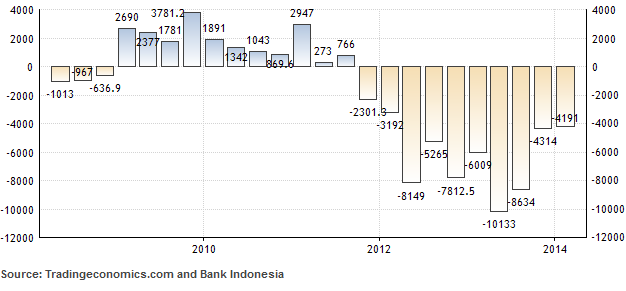 Bonds Issuance


The Finance Ministry of Indonesia sold IDR 890 billion (USD $76.7 million) worth of Islamic bonds (sukuk) at an auction on Tuesday (03/06) with a 9.09906 yield for the 29-year project-based sukuk (compared with a 9.00885 percent yield in the previous sukuk auction). However, the IDR 890 billion were below the indicative target of IDR 1.5 trillion (USD $129.3 million). The Finance Ministry also sold six-month Islamic T-Bills (yield of 5.75000 percent) and six-year project-based sukuk (yield of 8.15208 percent). Total bids amounted to IDR 4.220 trillion (USD $363.8 million), thus exceeding total bids worth of IDR 3.058 trillio in the previous auction.