News Stories Indonesia: Reactions to the Subsidized Fuel Price Hike
Main news headlines in Indonesia still cover the higher subsidized fuel prices implemented starting from the early hours of Tuesday (18/11). The previous evening, Indonesian President Joko Widodo had announced that prices of subsidized gasoline and diesel were to be raised by over 30 percent, immediately leading to long queues at local gas stations as well as public outcry as people's purchasing power will diminish. Analysts and economists, however, agree that this move is correct and can lead to structurally higher GDP growth.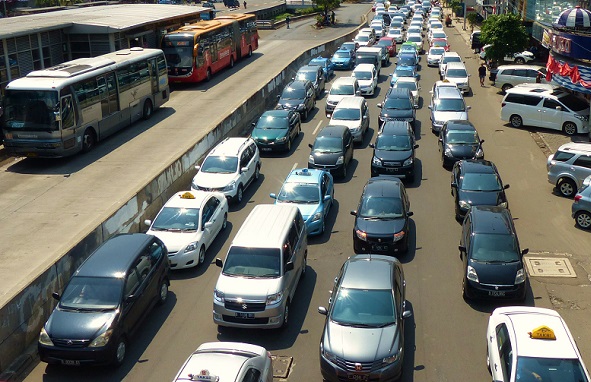 Indonesian Finance Minister Bambang Brodjonegoro said that improved fiscal space (due to the subsidized fuel price hike) will be used to enhance Indonesia's basic infrastructure as well as education and healthcare (particularly for the poorer segments of society). Brodjonegoro stated that between IDR 110-140 trillion (roughly USD $10.3 billion) will be saved in the 2015 State Budget. About IDR 16 trillion (USD $1.3 billion) will be used to improve irrigation in the country's agriculture sector (about 40 percent of the country's irrigation network is currently in bad shape thus impacting negatively on food security). Funds will also be used to subsidize fertilizers and seeds.
Better use of government funds should be able to lift Indonesia's economic growth back to +5.8 percent (year-on-year) in 2015. Meanwhile, the government still holds a conservative view regarding the value of the rupiah. The average rupiah rate is estimated at IDR 11,900 per US dollar in 2015. Despite the positive impact due to the easing current account deficit (as less oil imports are required), higher US interest rates are expected to lead to capital outflows from Indonesia, thus placing depreciating pressure on the rupiah.
The reallocation of funds from fuel consumption to infrastructure development will lead to lower logistics costs and thus will improve the competitiveness of Indonesian businesses. The government aims to build (or revitalize existing) roads, harbours, airports and train tracks to improve inter- and intra-island connectivity in Southeast Asia's largest economy.
Meanwhile, the central bank of Indonesia (Bank Indonesia) raised its benchmark interest rate (BI rate) for the first time in 12 months by 25 basis points from 7.50 percent to 7.75 percent in an unscheduled meeting on Tuesday (17/11) to combat inflationary pressures after the fuel price hike. Usually a fuel price hike leads to accelerated inflation for a period of three months. It is estimated that the price hike will add 2.5 percent on top of the country's annual inflation pace. As such, Indonesian inflation may reach about 7.5 percent y/y by the end of 2014.
The central bank stated to appreciate the government's decision to reallocate fuel subsidies to productive sectors. The government's fiscal reform policy constitutes a vital step in the process of structural reforms in order to strengthen the country's economic fundamentals as it will lead to declining oil imports (thus easing the wide current account deficit). Although, the move will lead to an inflation peak, the central bank is convinced that tight policy coordination with the central government can curtail the temporary inflation peak. Bank Indonesia also welcomes the government's social assistance disbursements to the poorer household of Indonesia as it supports the households' purchasing power. Furthermore, the reallocation of fuel subsidies to finance infrastructure development as well as various other productive activities (healthcare and education) will enhance the central government's fiscal space in terms of nurturing stronger and more sustainable GDP growth. As such, Bank Indonesia estimates that Indonesia's economic growth will be in the range of 5.4-5.8 percent in 2015 and higher in the medium-long term.
The Industry Ministry instructed that prices for public transportation (between cities and provinces) has a maximum price increase of 10 percent (economy class). Meanwhile, the government will provide fiscal incentives and regulatory improvement to public transport operators in order to ease their burden brought on by the higher subsidized fuel prices. The Industry Ministry estimates that the maximum ten percentage point increase in public transportation tariffs will not diminish people's purchasing power too much. The Ministry only has the authority to limit bus fare tariffs between cities and provinces. Regarding inner city bus lines, local administration have the authority to set price limits. Reportedly, fuel costs account for about 60 percent of operators' total operational costs.
Fiscal incentives that the government is willing to provide to bus operators include value added tax exemption as well as scrapping import taxes for spare parts.
Indonesia's benchmark stock index (Jakarta Composite Index) rose on Wednesday after Bank Indonesia raised interest rates following the subsidized fuel price hike. Just before the end of the first trading session, the benchmark index had climbed 0.42 percent to 5,123.87 points.

Key Findings:


• President Joko Widodo raised prices of subsidized fuels by an average of 36 percent in a bid to reallocate funds from fuel consumption to structural economic and social development
• Higher subsidized fuel prices will trigger accelerated inflation for a period of three months. In a response, Bank Indonesia raised its key interest rate by 25 bps to 7.75 percent
• The market reacted positively to the implementation of higher subsidized fuel prices as it will strengthen Indonesia's economic fundamentals (including reducing pressure on the current account deficit)