Update Indonesia: Interest Rate, Fuel Subsidies & Current Account Deficit
The central bank of Indonesia (Bank Indonesia) announced today (after the Board of Governors' meeting) that it keeps the benchmark interest rate (BI rate) at 7.50 percent. The lending facility rate and the deposit rate are maintained at 7.50 percent and 5.75 percent, respectively. Agus Martowardojo, Governor of Bank Indonesia, said that interest rates were maintained as the country's current account deficit narrowed to 3.07 percent of gross domestic product (GDP) in the third quarter of 2014.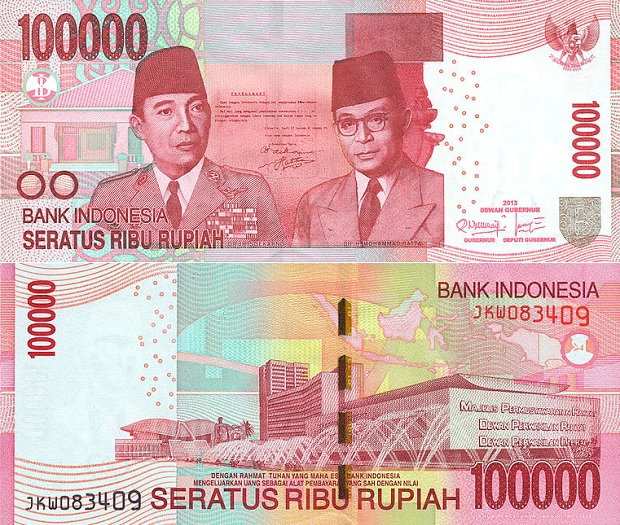 The BI rate has now been held at the level of 7.50 percent for exactly 12 month. Last year, the institution raised its key rate by 175 basis points in an effort to combat accelerated inflation after the government had implemented higher subsidized fuel prices in June 2013 as well as to curb the wide current account deficit which had hit a record high of USD $10.1 billion in the second quarter of 2013 (equivalent to 4.4 percent of GDP).

Bank Indonesia's BI Rate 2010-2014: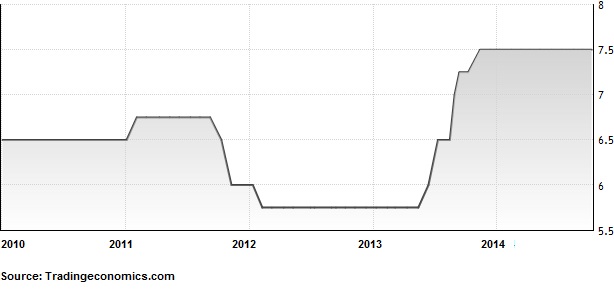 In the third quarter of 2014, the current account deficit of Indonesia eased markedly (which is a seasonal trend) from the 4.27 percent deficit recorded in the previous quarter. For full year 2014, Bank Indonesia expects that the deficit will reach 3.2 percent of GDP, implying a small narrowing from last year. Tomorrow (14/11), data concerning Indonesia's balance of payments (Q3-2014) are expected to be released.
On the downside, the higher interest rate environment in Indonesia has contributed to slowing economic growth. In the third quarter of 2014, GDP growth slowed to 5.01 percent (year-on-year), the slowest quarterly growth pace in five years.
Meanwhile, speculation started to rise that there may be a small subsidized fuel price hike only in November (if at all). Previously, the Indonesian government repeatedly stated that prices of subsidized fuels (gasoline and diesel) were to be raised this month in an attempt to curb costly oil imports (and ease the government's ballooning USD $23 billion fuel subsidy bill). However, due to a sharp drop in global oil prices, the government may be rethinking this move. Since Joko Widodo's inauguration as Indonesia's seventh president on 20 October 2014, prices of oil have declined 7 percent, thus reducing the urgency to raise fuel prices. Raising fuel prices is a sensitive matter in Indonesia as such a move triggers public outcry because of significantly accelerated inflation and reduced purchasing power.