Mixed Predictions about Interest Rate Policy Decision of Bank Indonesia
Tomorrow (13/03), Bank Indonesia will hold its next Board of Governor's Meeting to discuss general policies in the monetary field. As usual, market participants are highly interested in the central bank's assessment of the country's economic fundamentals and interest rates policy. However, predictions about Bank Indonesia's stance toward its benchmark interest rate (BI rate) are mixed. Some expect it to be kept at 7.50 percent as inflation has been under control. Others anticipate a 0.25 percent hike due to the country's weak exports.
Last year, inflation accelerated to nearly nine percent due to higher fuel prices implemented in June 2013. In recent months, however, inflation has shown an easing trend to 7.75 percent (year-on-year) in February 2014, from 8.22 percent (yoy) one month earlier. This moderating trend is expected to continue in the months ahead. Bank Indonesia stated on various occassions that its 2014's inflation target of 3.5 to 5.5 percent is still within reach.

Inflation of Indonesia 2008-2015:


2008
2009
2010
2011
2012
2013
2014
2015
Inflation
(annual percent change)
9.8
4.8
5.1
5.4
4.3
8.4
-
-
Bank Indonesia Target
(annual percent change)
5.0
4.5
5.0
5.0
4.5
4.5
4.5
4.0
Bank Indonesia Rate
(percent at year-end)
9.25
6.50
6.50
6.00
5.75
7.50
-
-
Sources: World Bank and Bank Indonesia


Meanwhile, the Indonesian rupiah exchange rate has shown a much better performance in 2014 compared to last year. In 2013, speculation about the looming end of the US quantitative easing program in combination with Indonesia's record high current account deficit and high inflation, led to significant capital outflows thus pushing the rupiah in a depreciating trend. Indonesia's currency weakened more than 21 percent against the US dollar in 2013. This year so far, however, the rupiah has appreciated over 6 percent against the greenback.


| Source: Bank Indonesia

Renewed confidence in Indonesia's economic fundamentals as well as more clarity about the US bond-buying program have triggered capital inflows to Indonesia in recent months.
But there are also analysts who predict a 0.25 percent BI rate hike in either March or April 2014 due to the country's fragile exports. Although the current account deficit of Indonesia improved from a record high 4.4 percent of gross domestic product (GDP) in the second quarter of 2013 to 1.98 percent of GDP in the fourth quarter of 2013, there remain concerns about Indonesia's export performance, particularly as the influence of the ban on unprocessed minerals has been felt since its implementation on 12 January 2014. Through this ban, the Indonesian government aims to earn more revenue from its exports. However, for the short term it will result in weakening exports as processing industries need to be developed.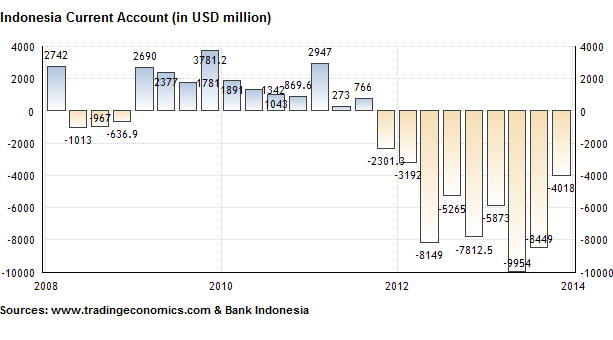 On the first trading session on Wednesday (12/03), Indonesia's benchmark stock index (Jakarta Composite Index) fell 0.34 percent, partly due to concern about a possible interest rate hike tomorrow.